I'm peacefully write this week's personal post snuggled in our warm bed (freshly laundered sheets with extra powder, might I add) — a cat at my feet and my husband at my side.  The drier is still spinning another load (number seven of the day) and Pandora's "A Fine Frenzy" plus my iPhone's thunderstorm sound app add a soothing ambience to my favorite room of the house.  Maybe its the string the of twinkle lights Adam's hung above our headboard or the fact that I can still turn on our heated mattress pad for mid-day naps.  It could quite possibly be the stack of books I have on my nightstand (Anne of the Island being my current night-time read).  Or maybe its that everything's found its place here — in its own nook and cranny — and so have I.
STARS OF THE SHOW:
Distance does make the heart grow fonder.  For humans, this rings true for Adam and I.  Whenever we were separated for a period of time, the first time we saw each other…I can only explain as butterflies.  Sweet, fluttering butterflies.  This must've been something we've passed on to our furry family because — as you can see below — they've wanted a lot of cuddle time.  Together.  On their own.  On the couch.  Heck, they'll even settle for a lap while Adam plays video games (row four, picture four).  And my personal favorite (uh-huhhh)…kneading my face and pillow simultaneously at 7AM (row three, picture two).  Because who doesn't like that kind of wake-up call?!
POINTS OF INTEREST:
Anyone here on the west side of the state knows how to spend an afternoon in the latest 90+ degree weather: in the air conditioning.  Any photographer can empathize shooting an outdoor wedding in said weather.  I've never packed a wedding bag so specifically as to include travel deodorant (row four, picture two), but, hallelujah, I'm thankful (I'm sure Adam is too) I did!  
Tracie and Nathan's wedding day was perfect.  In hindsight, the rainstorm 3/4 of the way through the ceremony and the hail that followed might've put a damper on the party, but I tell you what — I never stopped praying for sunshine, and God delivered plenty of it throughout the day.  I don't want to ruin anything for their upcoming blog feature, but as I was looking through Adam's First Look pictures (row four, picture three), my eyes welled up with tears and I was enthralled with her beauty, their love, Adam's talent, and the love for my job.  I am so lucky.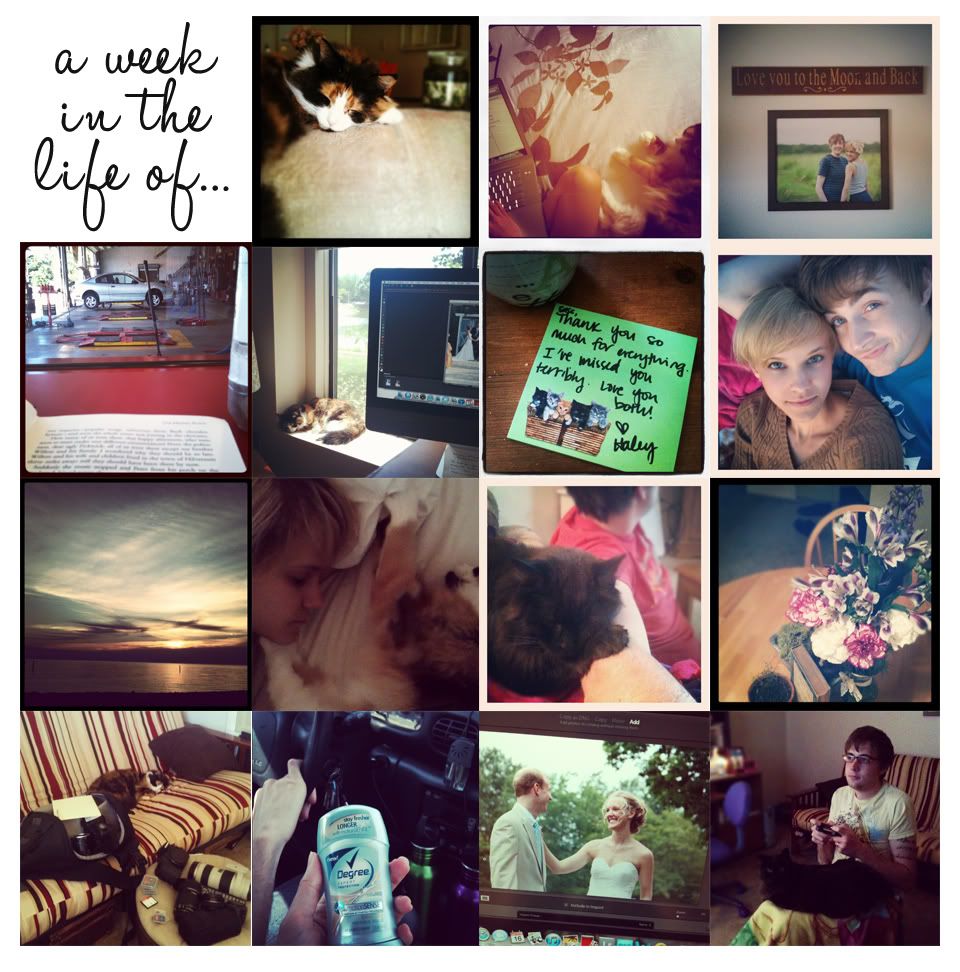 *(Instagram is a free app for iPhones (and now Androids!) that features various filters that are easy-to-use and make posting to Twitter, Facebook, and my blog (with the help of a personally-made Photoshop template), easy-peasy! You can follow me @brennigan)
I'm heading back home tomorrow for my parents' annual garage sale.  We have over five families worth of goodies to sell, and I've got an English grandma who will be needing me to take over the register when she has her afternoon tea. 🙂  I'm hoping to post a little country portrait love later this week, but until then, I leave you with the words of my friend Mark Twain…
"Why not go out on a limb?  That's where the fruit is."


Simple truths.  Take your step.