I had been anticipating this wedding since December.  As I've said previously in their engagement post, Tracie and I just clicked.  Our styles, our visions.  And after witnessing the love they share while photographing them in February, I knew that no matter what they type of day they had, it would be perfect.  For them.  Their engagement story includes Nathan proposing with a puzzle.  And I had to admit…the do complete each other.  They fill in the gaps of each other and intertwine to create something beautiful.
Tracie and Nathan were married on June 16th at Whittaker Woods Golf Club in New Buffalo, Michigan.  Their wedding day was just as I dreamed…only better!  Yes, the heat wasn't too gracious to us, but the sun was shining and the shade on the golf course was delicious.  We had spouts of rain (and other precipitation), but we couldn't be happier for these too!  Adam and I were able to capture so many details, moments, and their love that I couldn't allow myself to contain it to one blog post.  I am in love with their day and their love — and you'll see it too.  The he makes her laugh.  The way she smiles at him.  The way he holds her.  And OH, I just need to get on with it.
Without further ado, Part One to Tracie and Nathan's love story.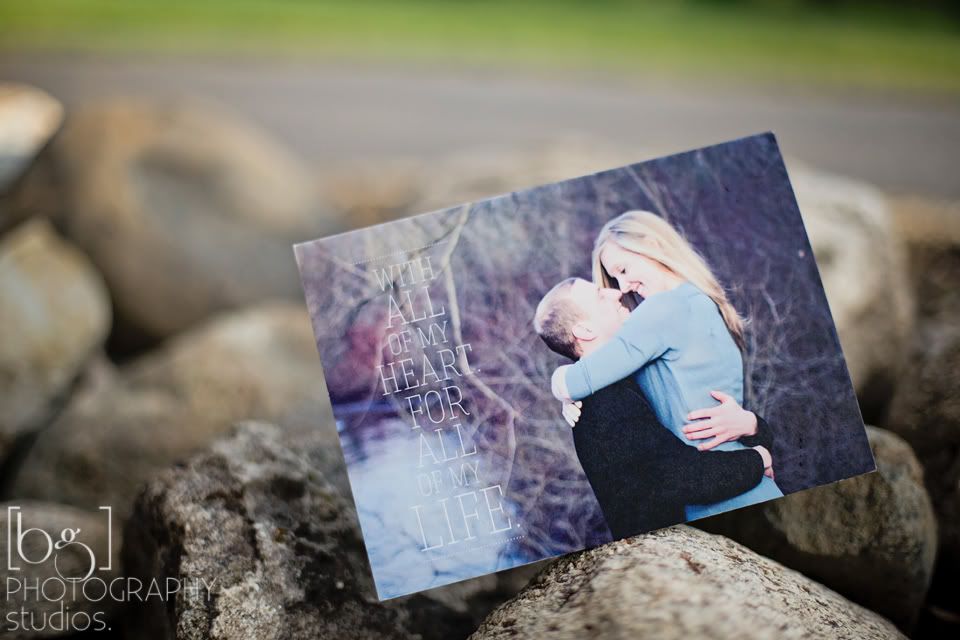 Her dress was gorgeous (and she in it…but that's to come later!).  Timeless beauty with lace, buttons, and a hint of glamour.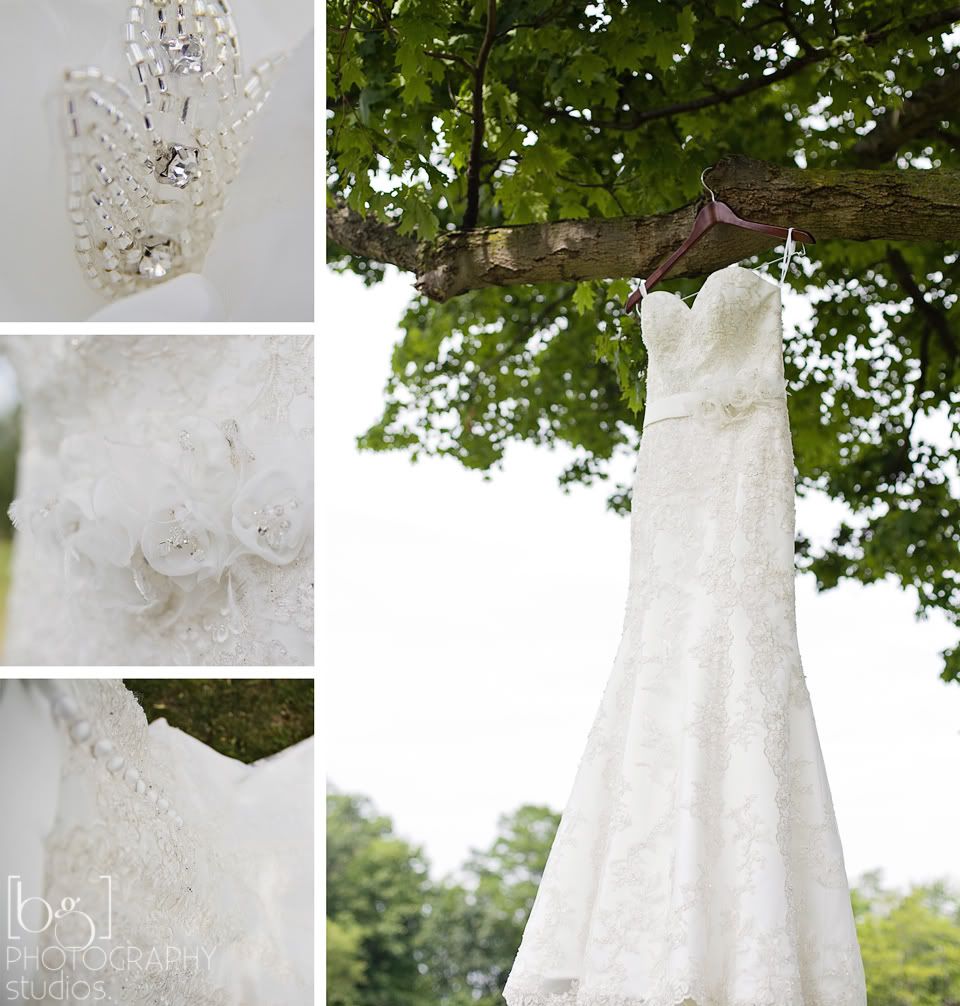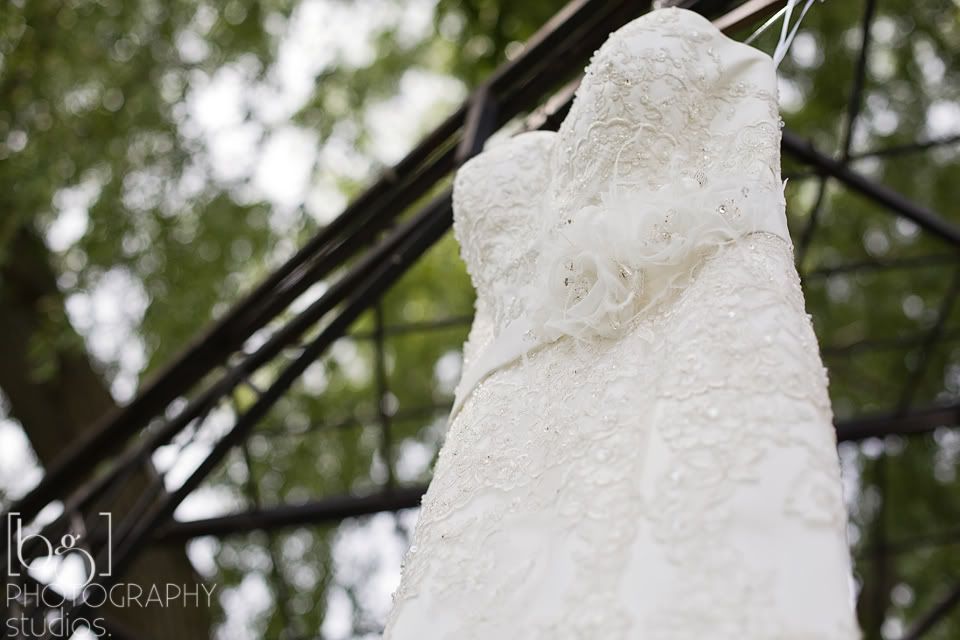 And then the décor…I fell in love.  Burlap, mason jars, hand-made photo-frames with lace edging…and wild flowers!  And to top all of that off :: spoons and a deck of card!  *sigh*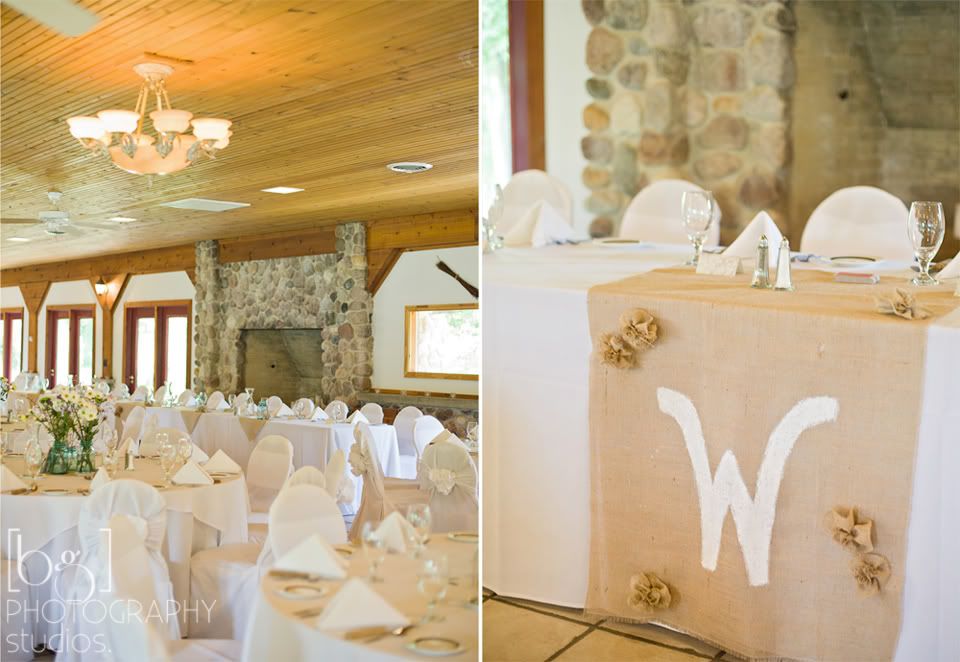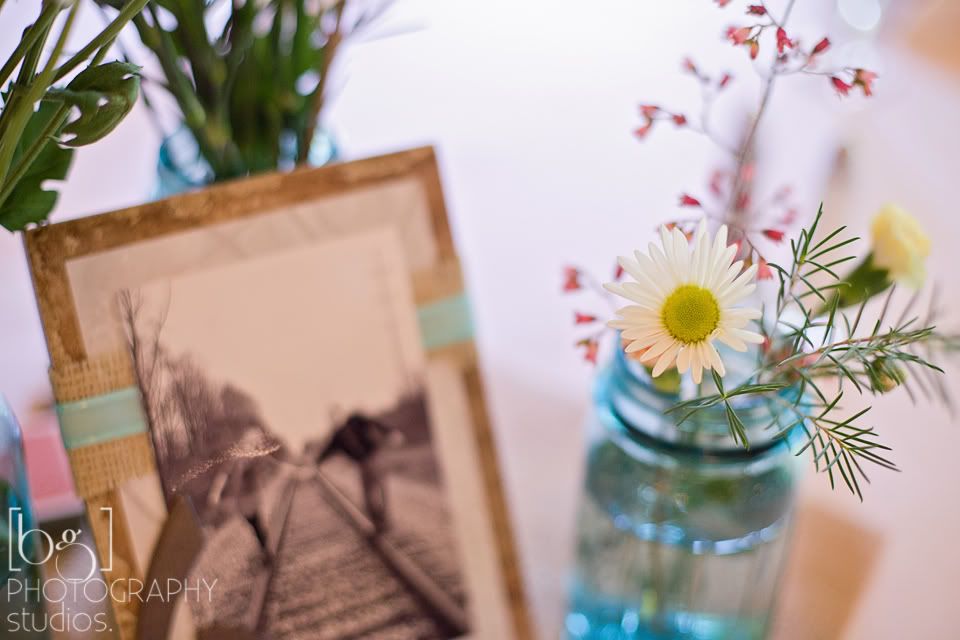 And while the boys were "getting ready" — sidenote, I am so thankful Adam is my second-shooter (AND A MAN.) — and running around pulling off shenanagins (yes, that wood mannequin did over-see the men's bathroom stalls),…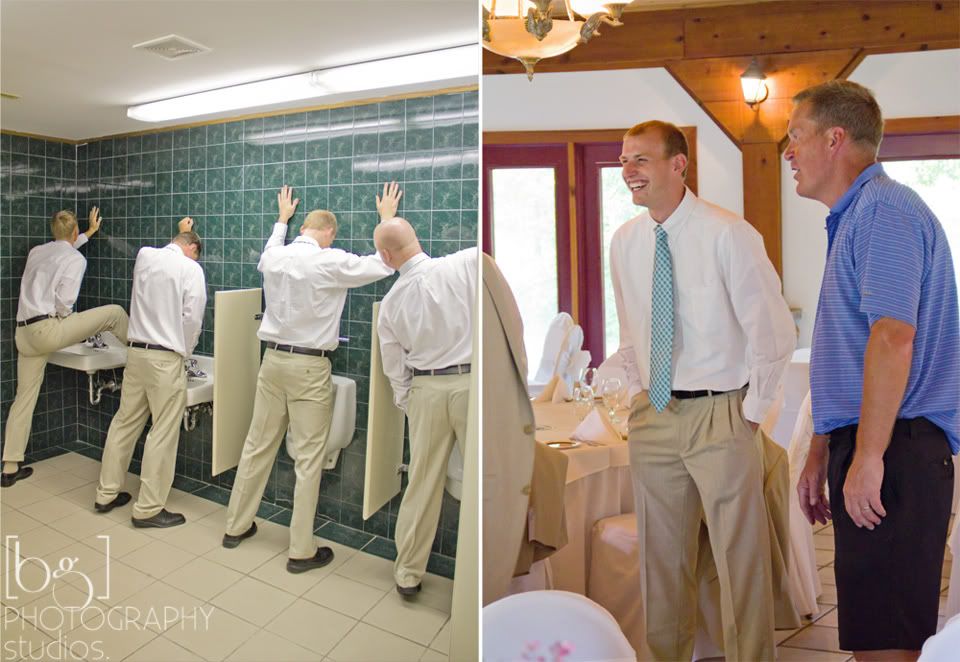 WE ladies and the bride-to-be were getting ready…completely unaware of anything but wedded bliss.
Tracie gave each of her three bridesmaids gifts right before the ceremony in cute, crafty boxes.  Necklaces and earrings to wear for the day. 🙂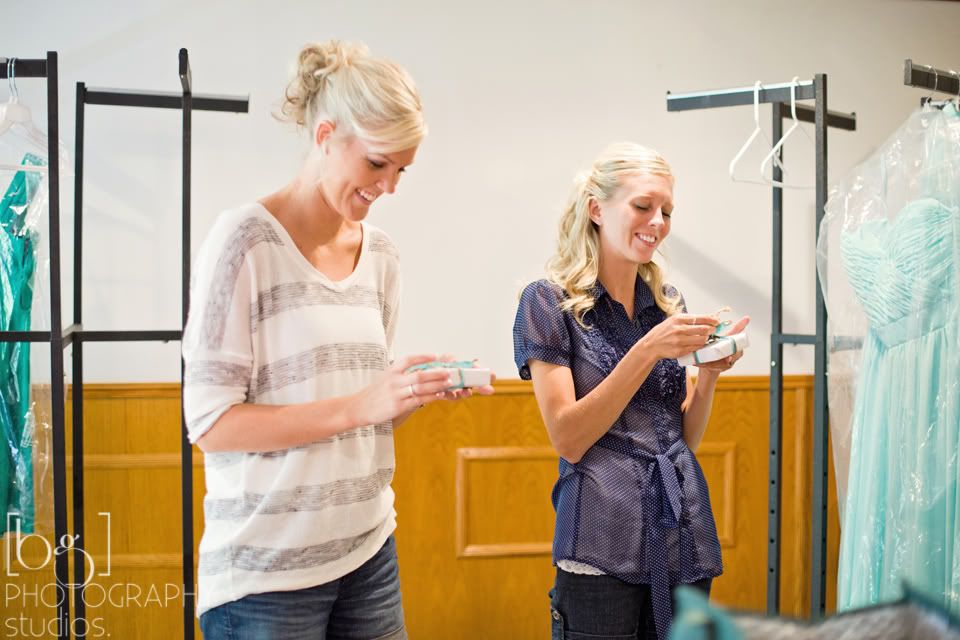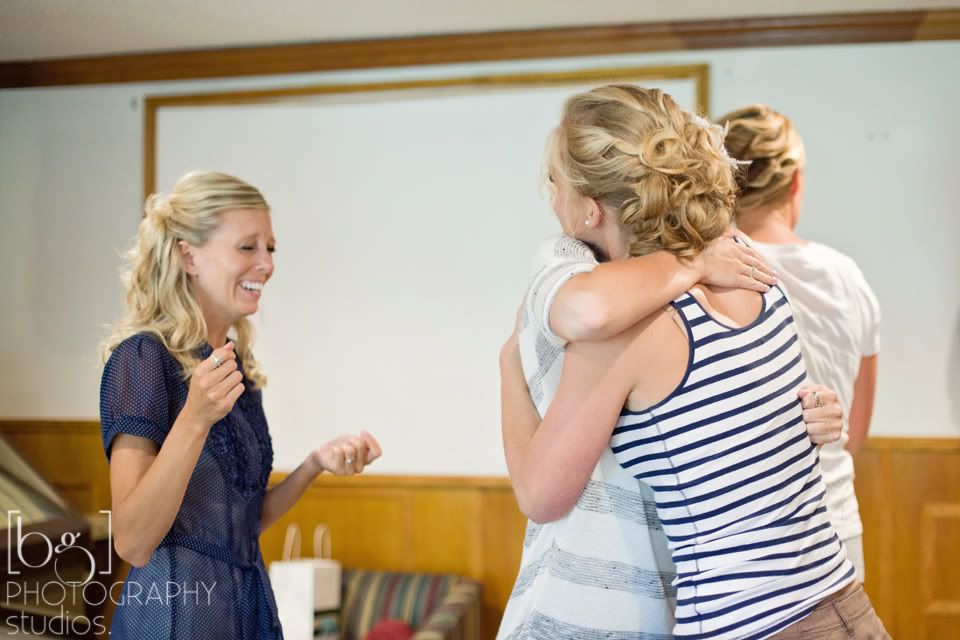 And then the moment when Tracie truly became a bride…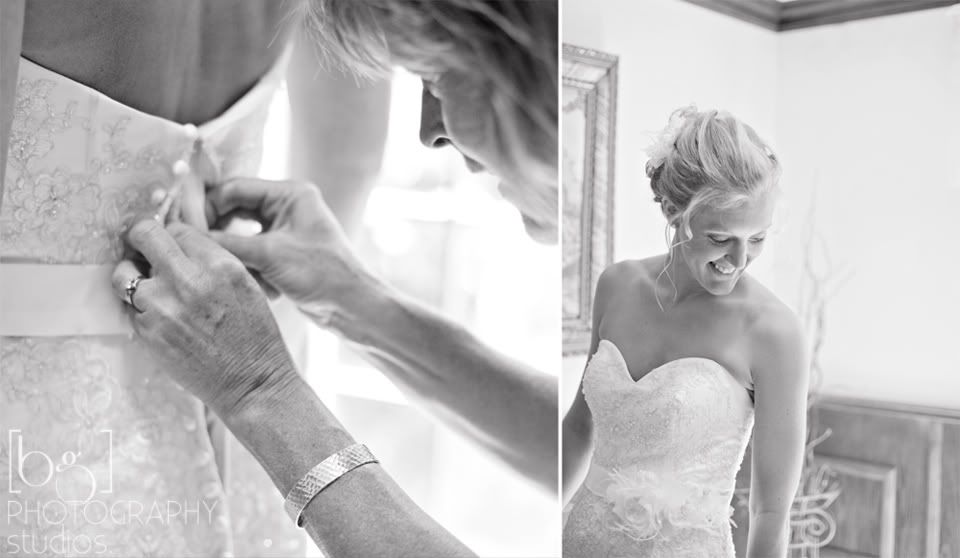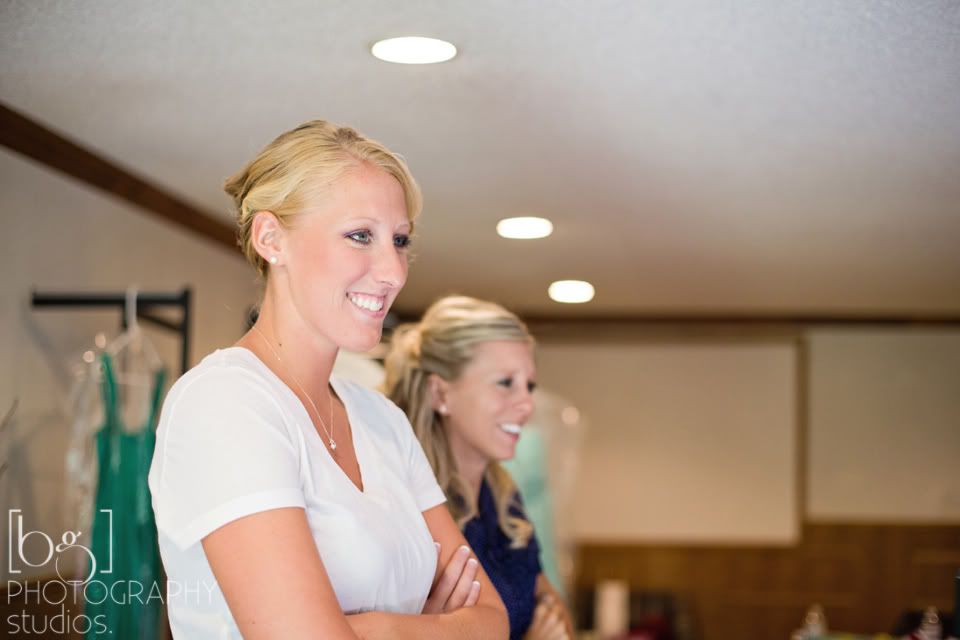 Absolutely stunning, girlfriend.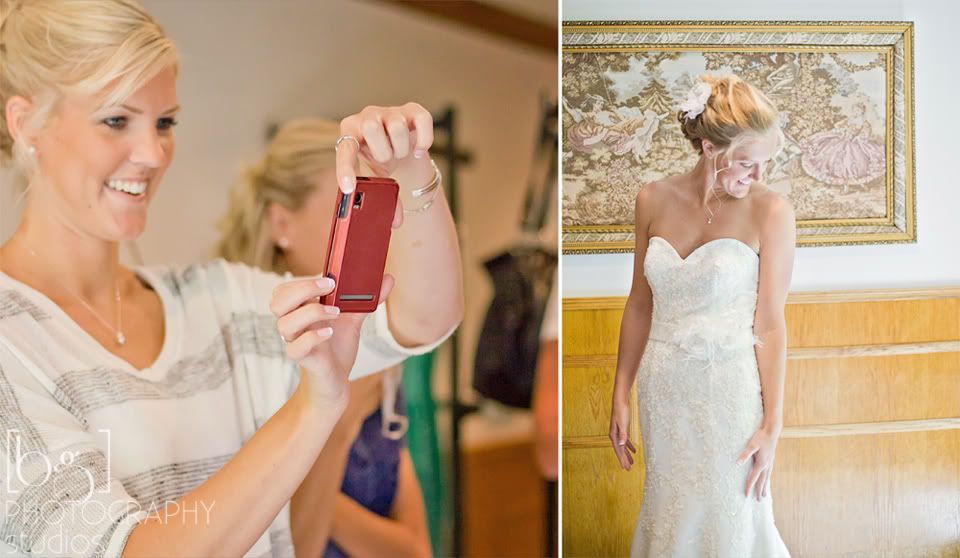 And after everyone had left the room, Tracie read a note from Nathan that was placed on the table complete with a hand-picked rose from their house of dreams they had purchased together.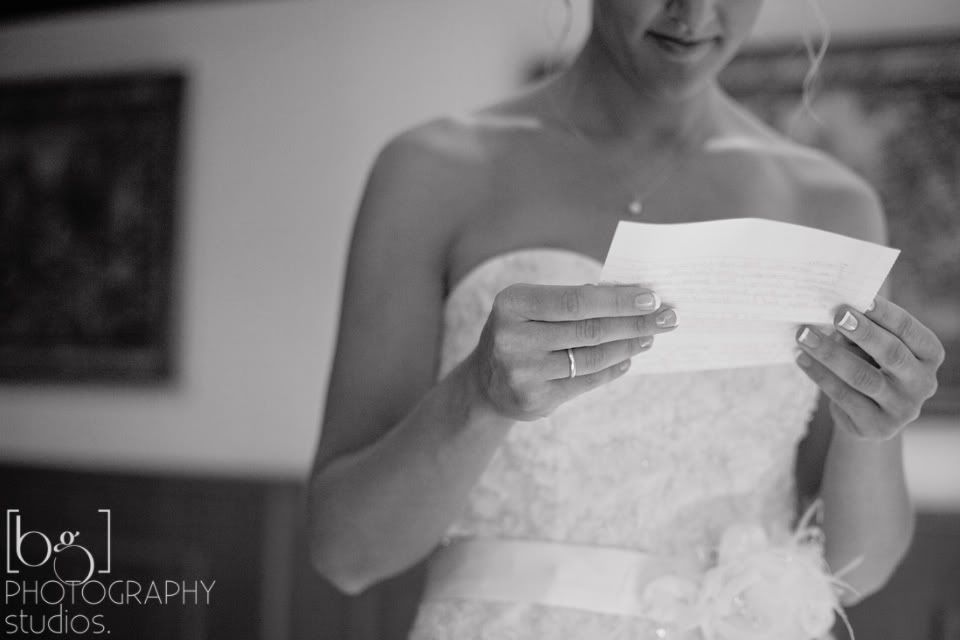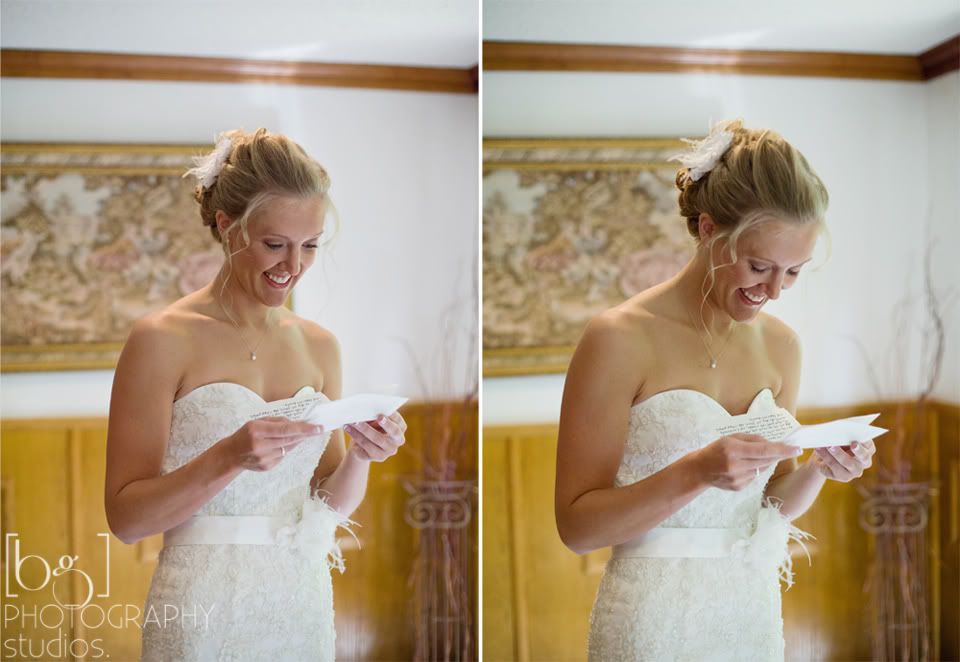 Adam and I love when our couples choose to have a First Look.  We had a first look on our wedding day, and I've come to cherish those moments before our ceremony.  The building anticipation of seeing your beloved for the first time.  The wedded excitement.  The intimacy.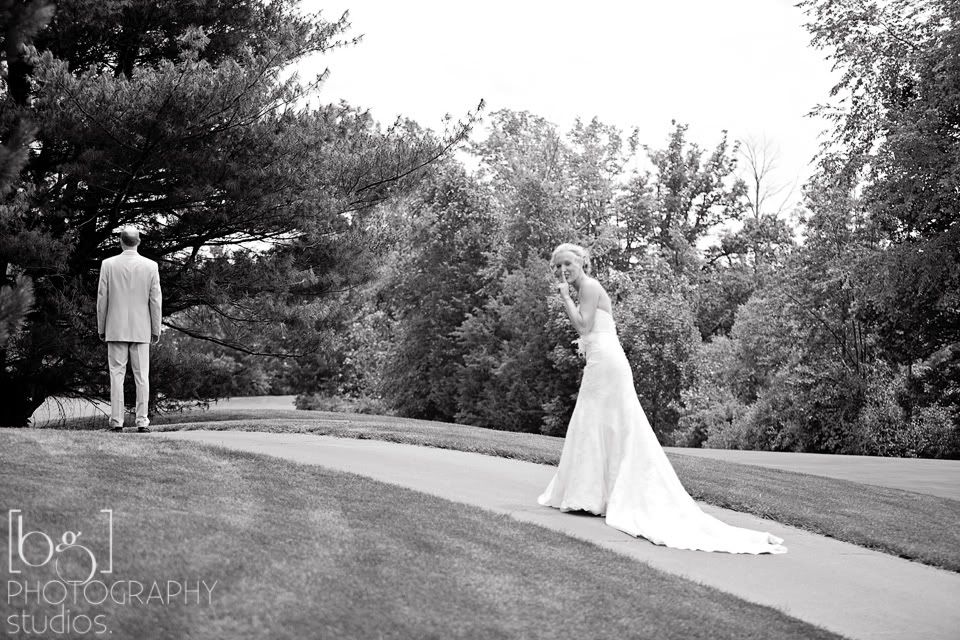 Oh, and then.I.died ~ in pure awe of their love.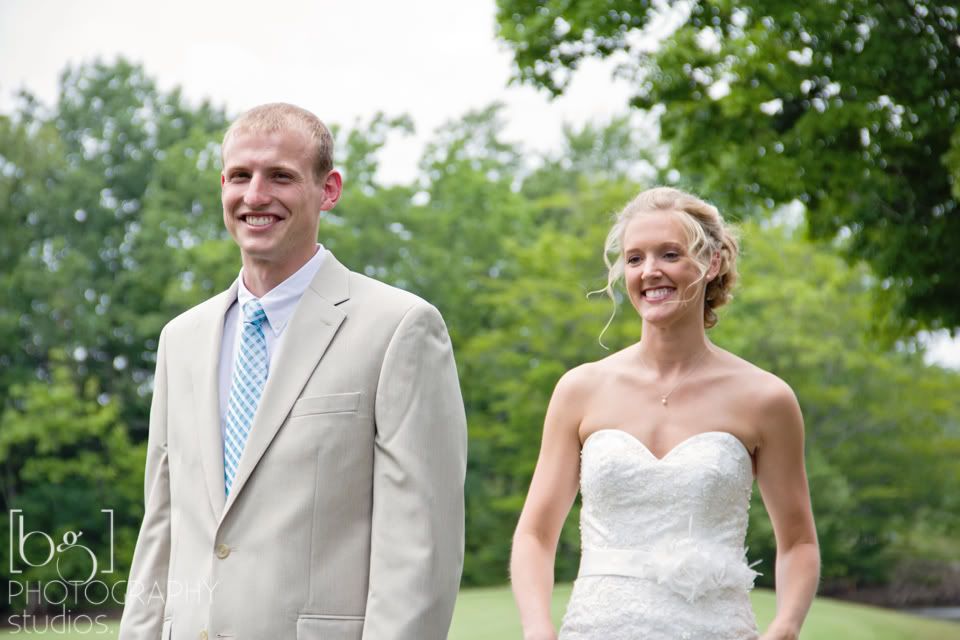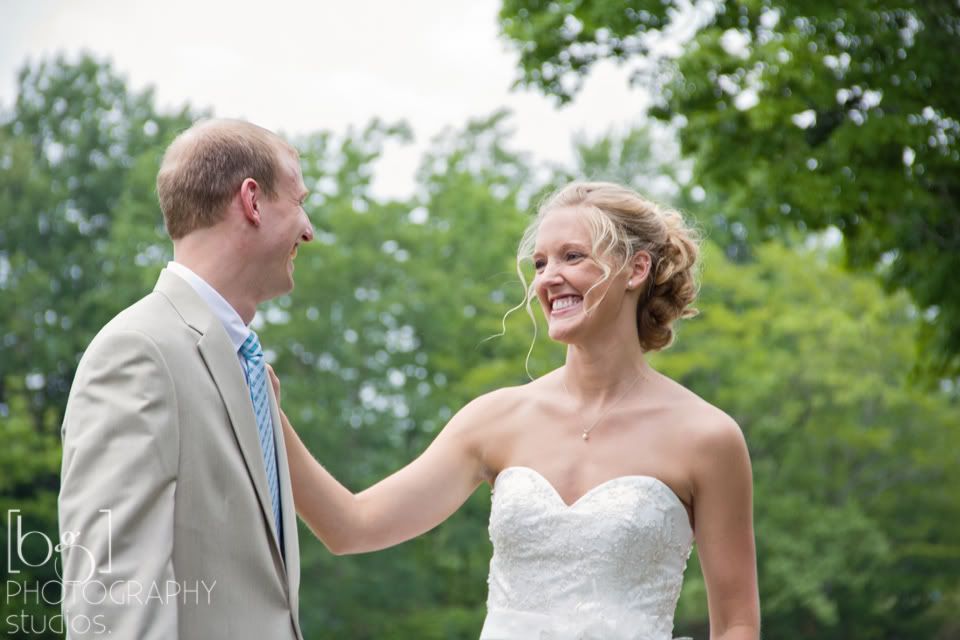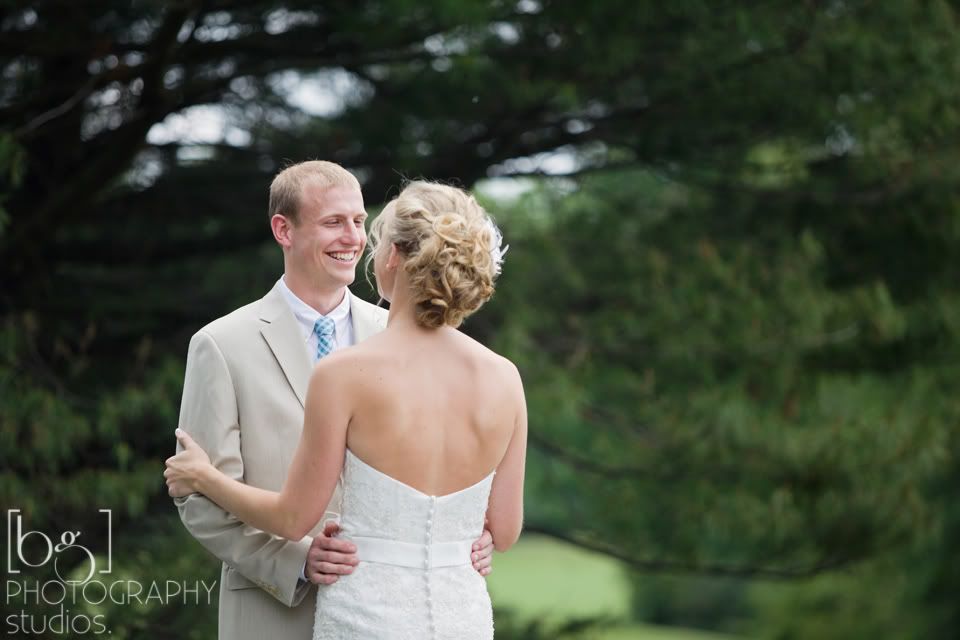 I'm swooning behind the camera at this point…dizzy with love.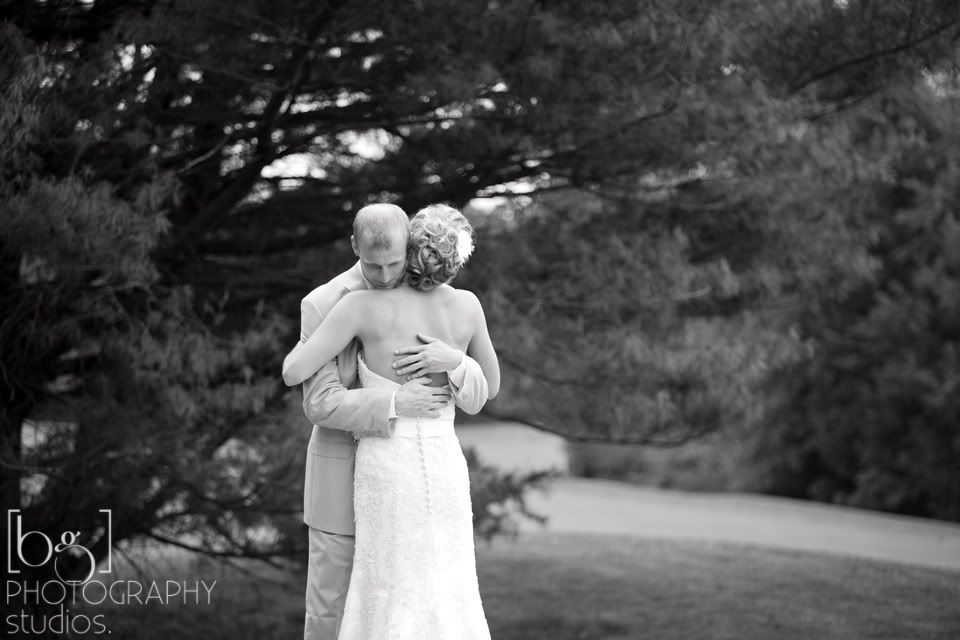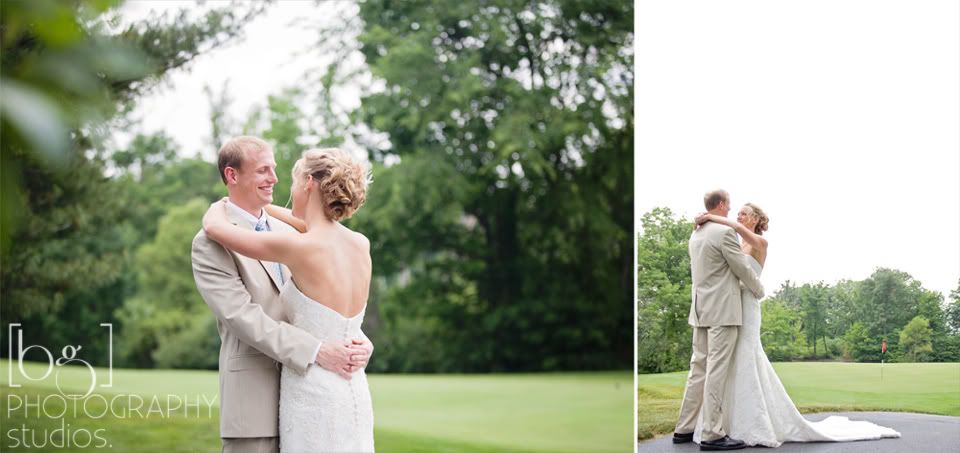 One of my favorite moments of the entire day captured by my beloved.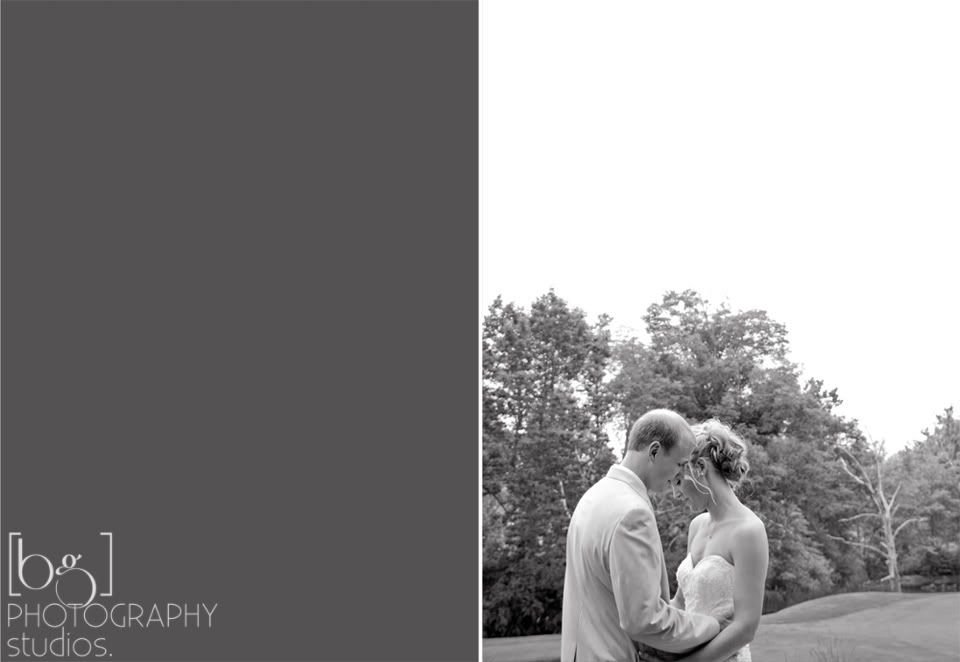 After their first look, the four of us wandered to previously scouted locations for more pictures.
We came across this pathway arched by green tree boughs giving us enough shade from the heat but still beautiful light to capture the sparkle of their eyes.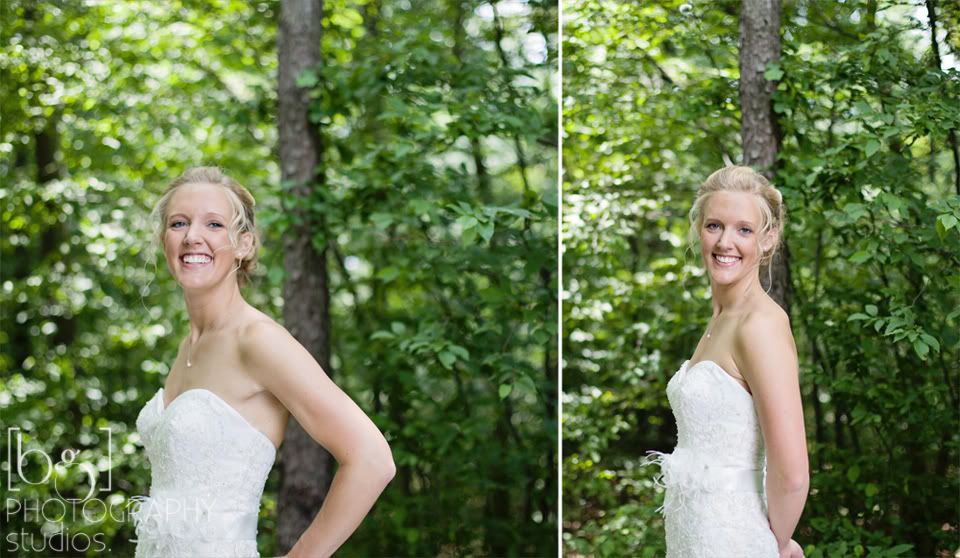 I don't think I could love these two anymore!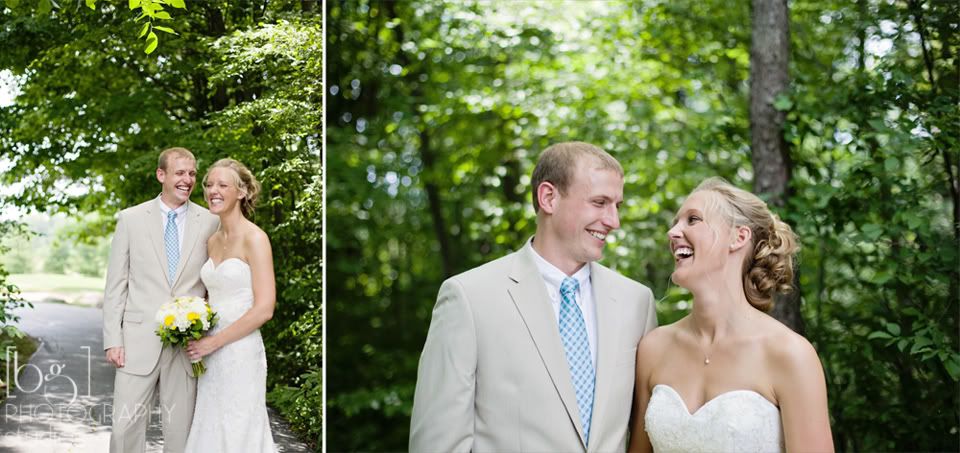 And Tracie, seriously.  You're gorgeous.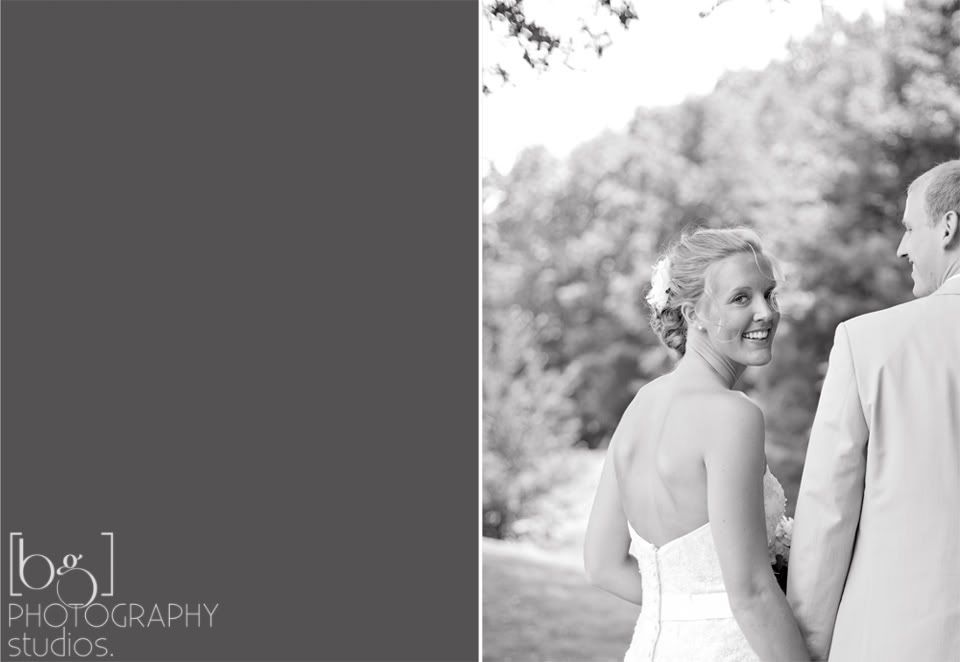 Tracie's bouquet was fit her day perfectly (as were his bridesmaids bouquet, boutonnieres, and corsages) and was assembled by Crystal Spring's Florist in St. Joseph, Michigan.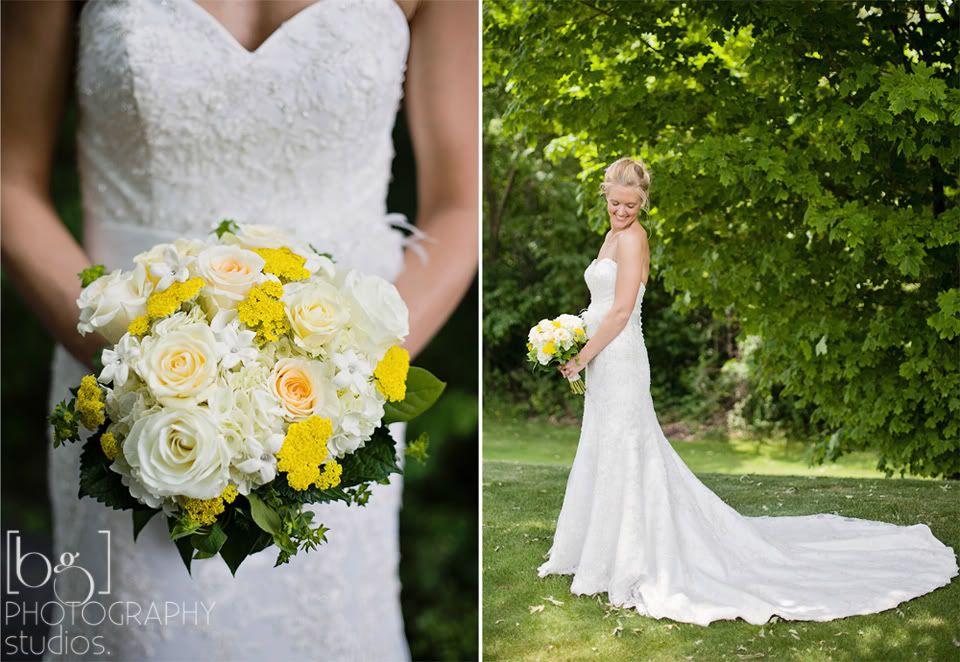 Now, Nathan is a handsome guy and a gentleman. (Ladies, he's definitely a keeper.)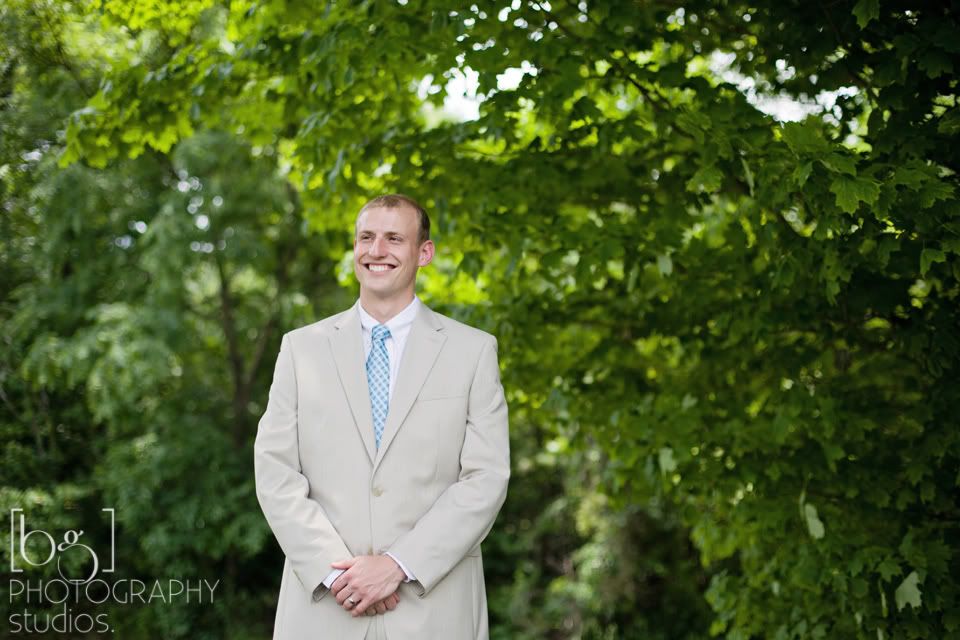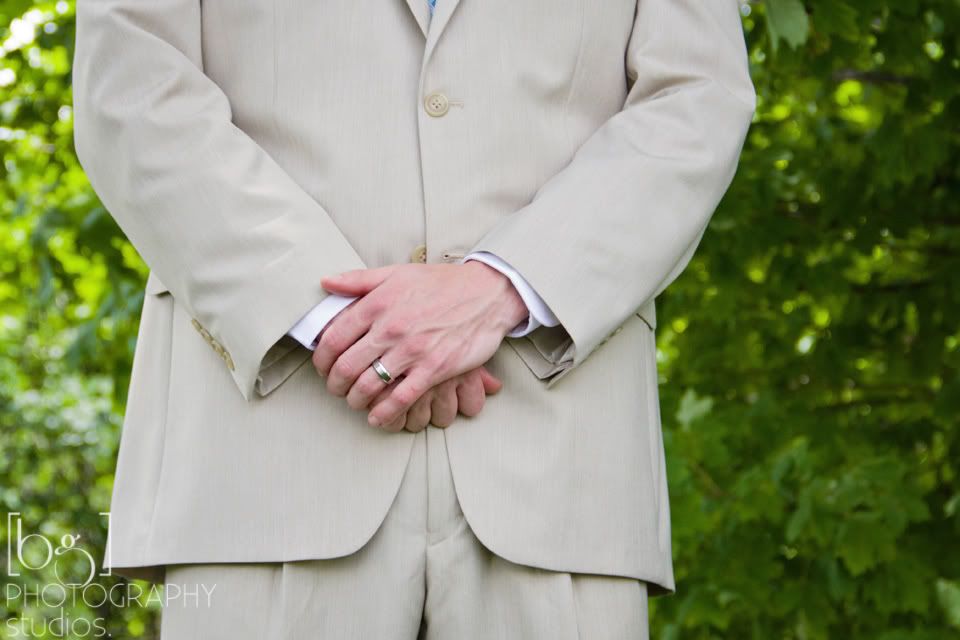 But its in moments like this where I can imagine Tracie can't help but fall in love with him all over again (gaaah, look at that WINK! looove!)!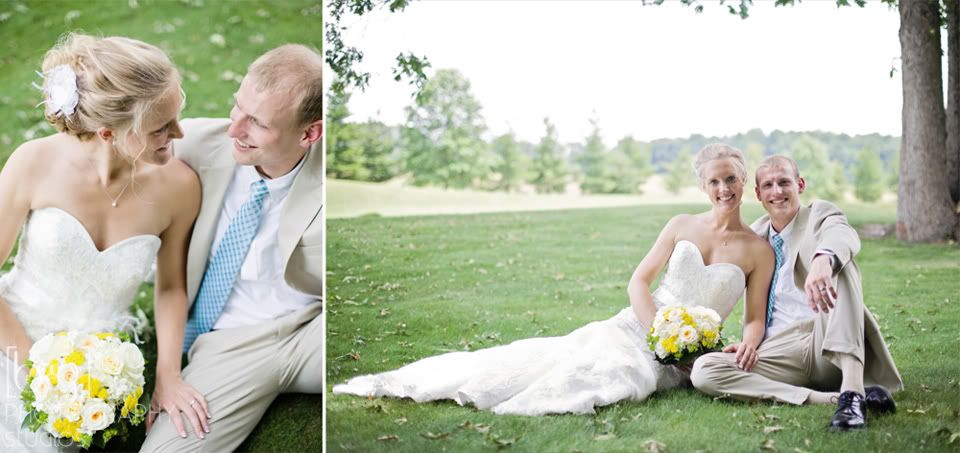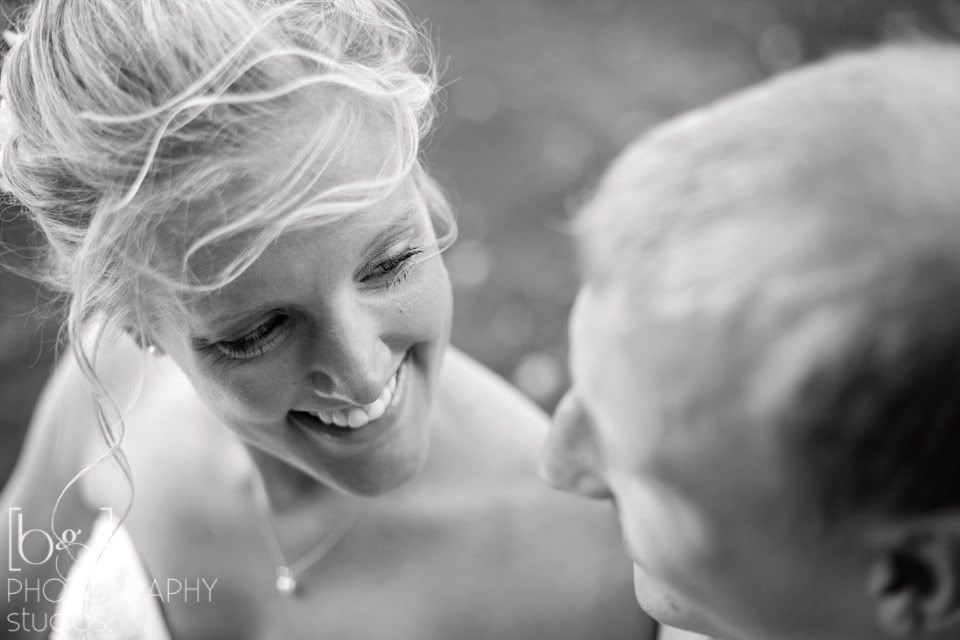 We and the bridal party caravanned around the golf grounds in style!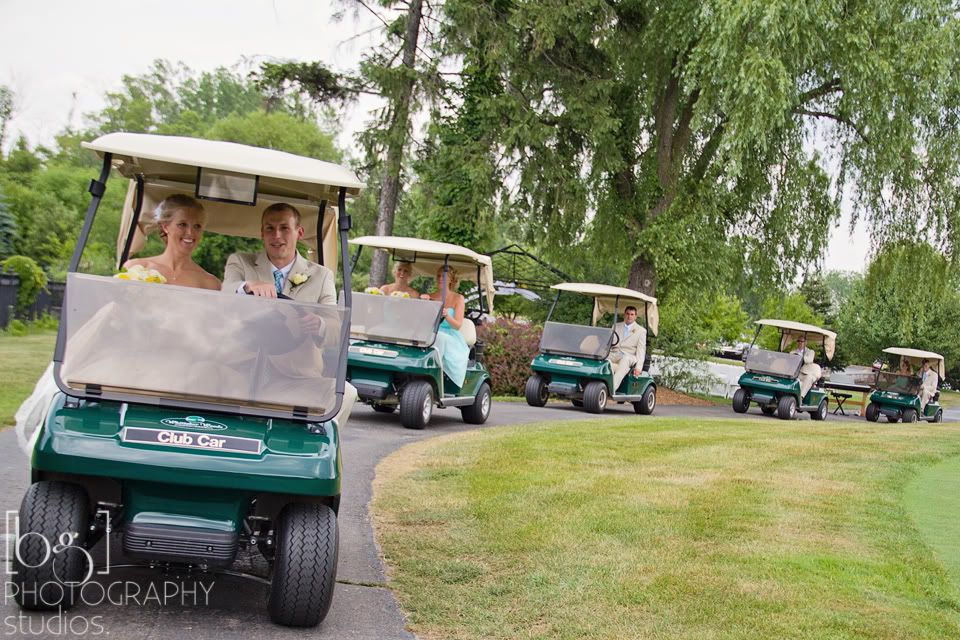 NO KISSING AND DRIVING!  Unless it's your wedding day…🙂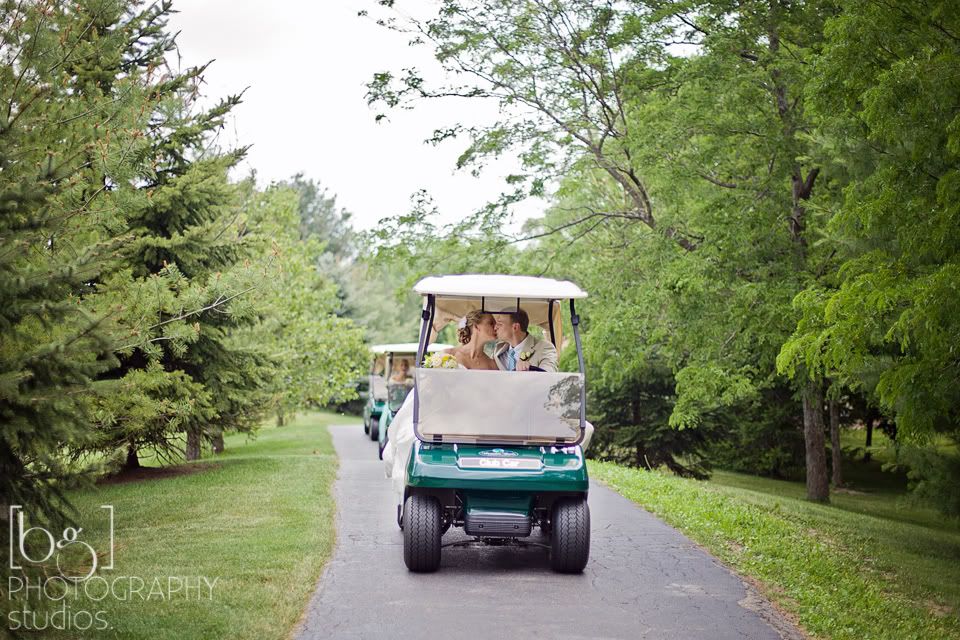 Their bridal party was…well, let's just say that they can rock it out.  And we love them all the more for it.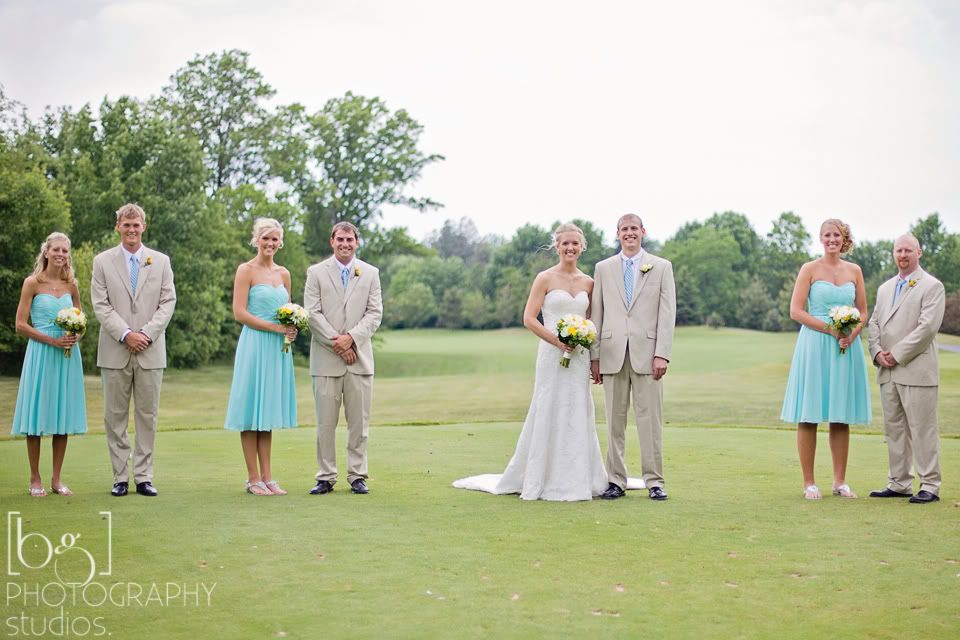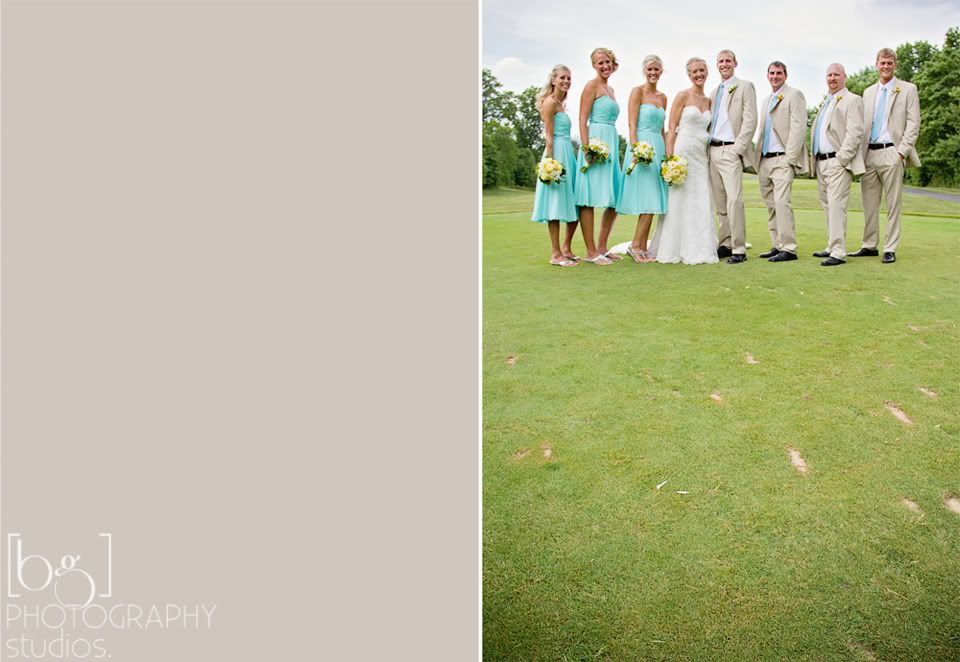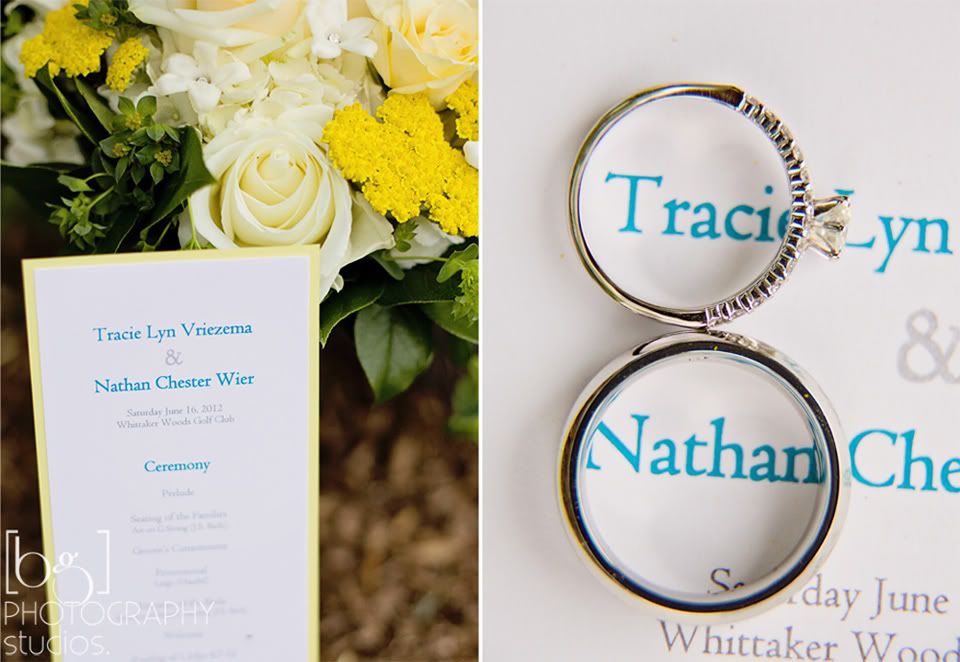 BLING, BLING! 😉
And soon it was time for Tracie and her father to make a much anticipated walk down a beautiful aisle…
Where her groom awaited her — full of smiles, as usual.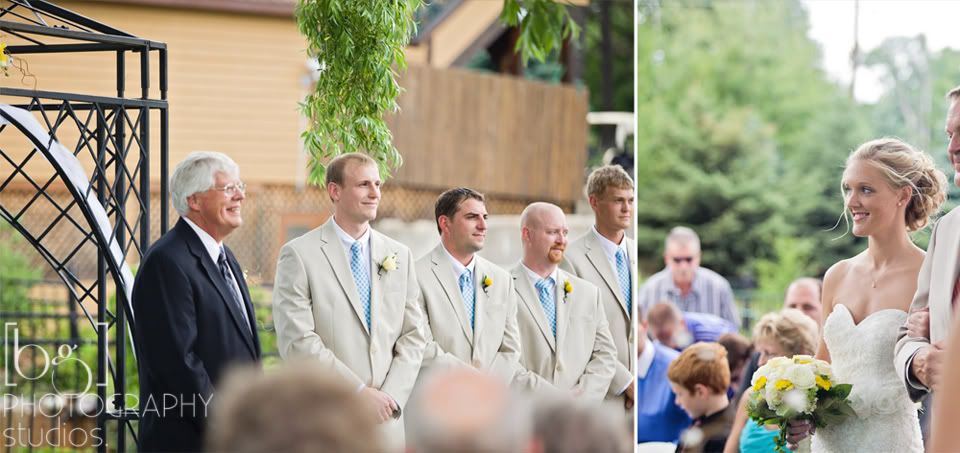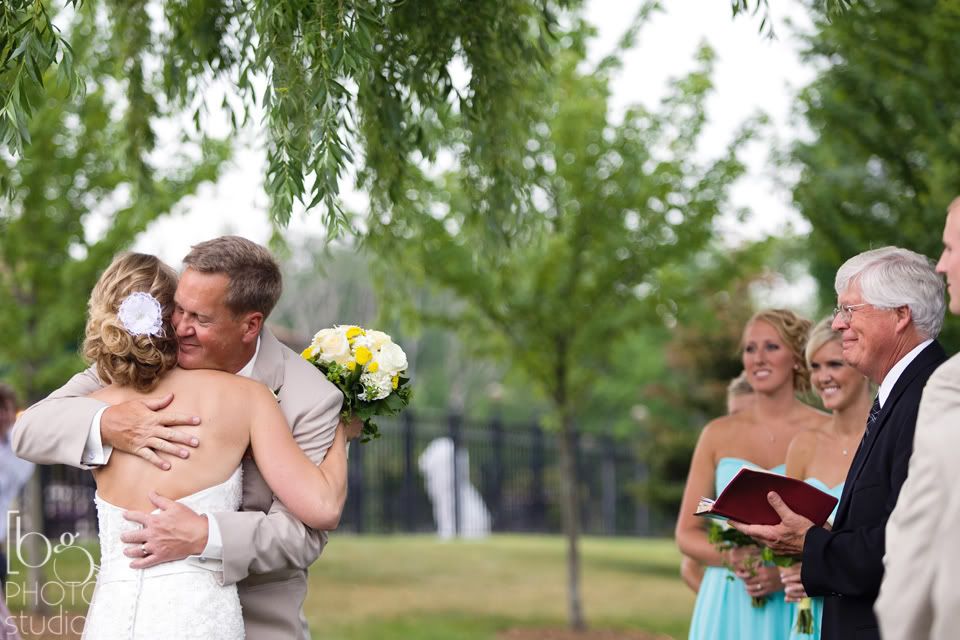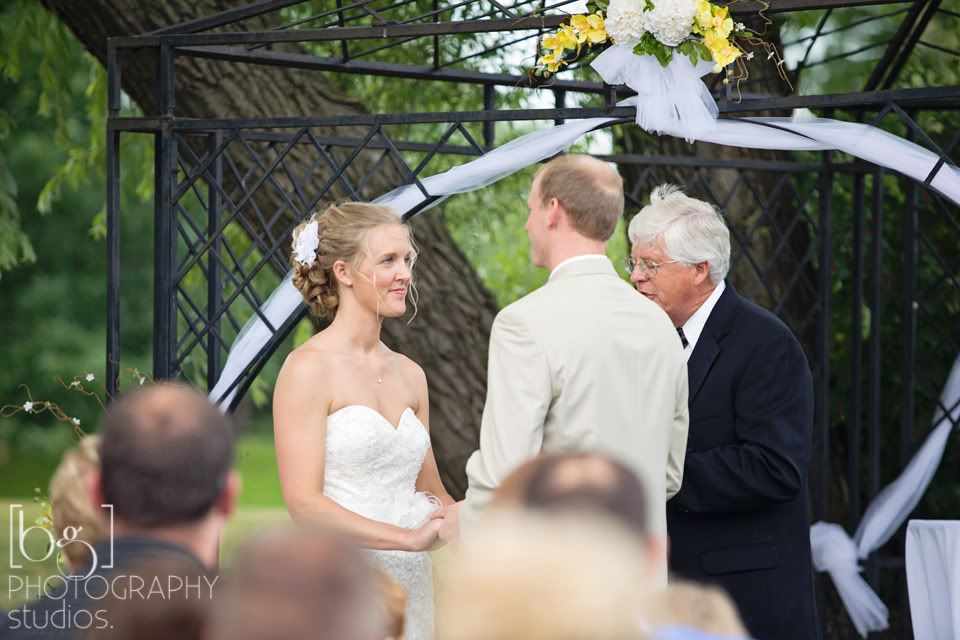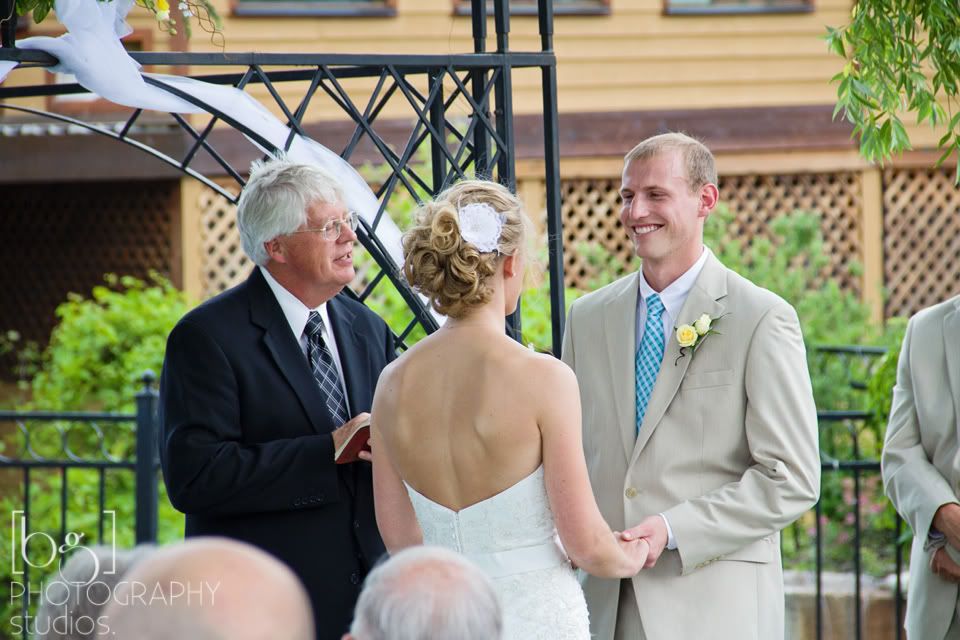 I love how you can see the minister holding the ring as they clasp hands before exchanging vows…*love.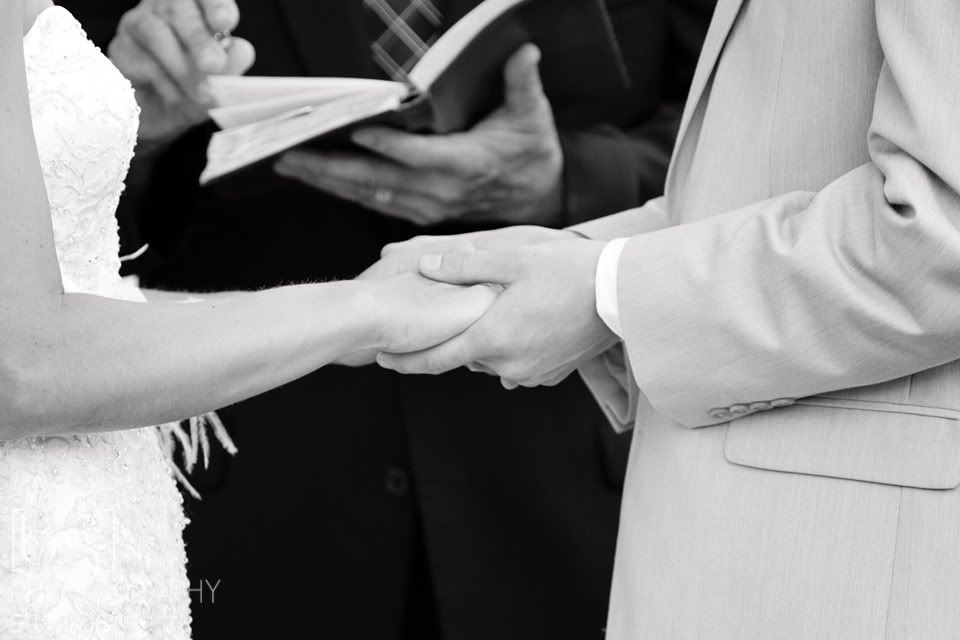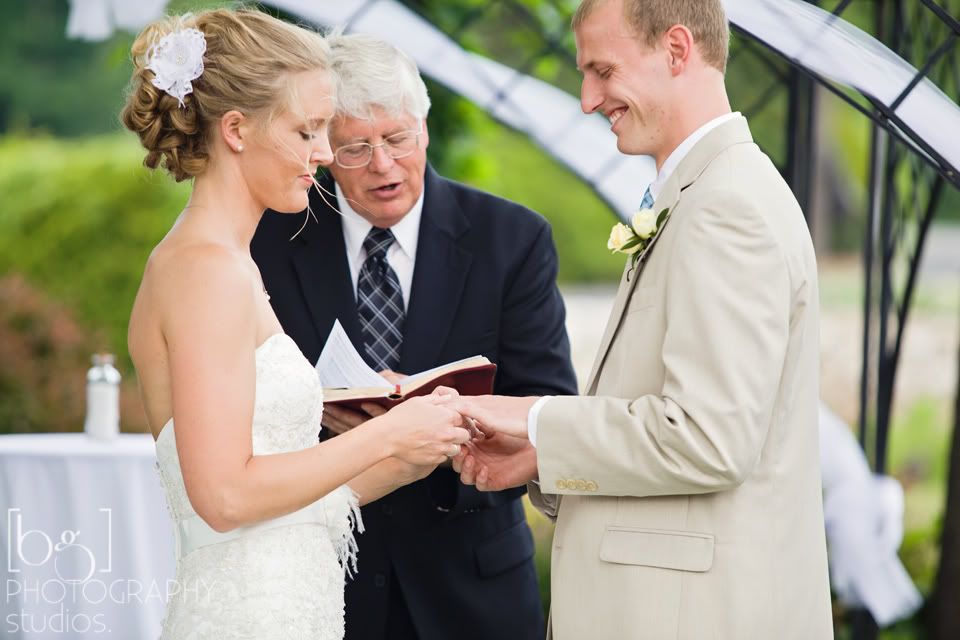 The weather had been a little fussy all day but for the most part allowed us gorgeous sunshine.  The ceremony started with clouds overhead, but Tracie and Nathan had eyes and hearts only for each other.  Three-quarters of the way through the ceremony, the thunder started booming…and then rain started coming…and this fabulous couple?  They laughed!  And their families and guests?  They celebrated!  Because rain can't put a damper on this kind of sweet love.
(I love the mama and dad of the bride [and guest behind] laughing while you can see the rain coming down!)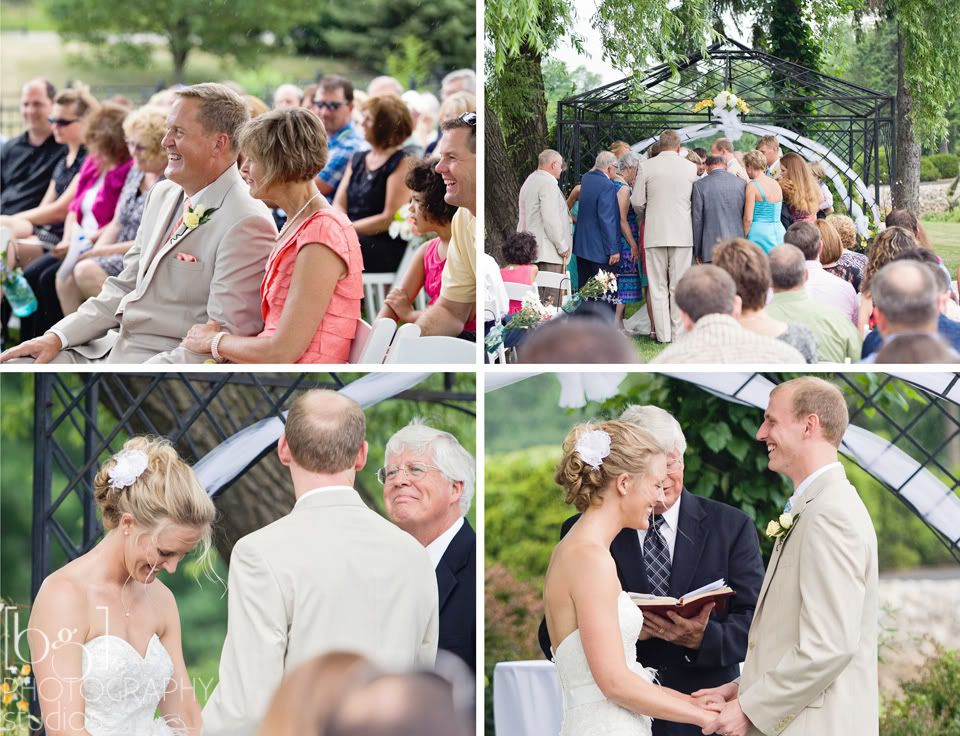 But don't worry…Nathan finally got to kiss his bride.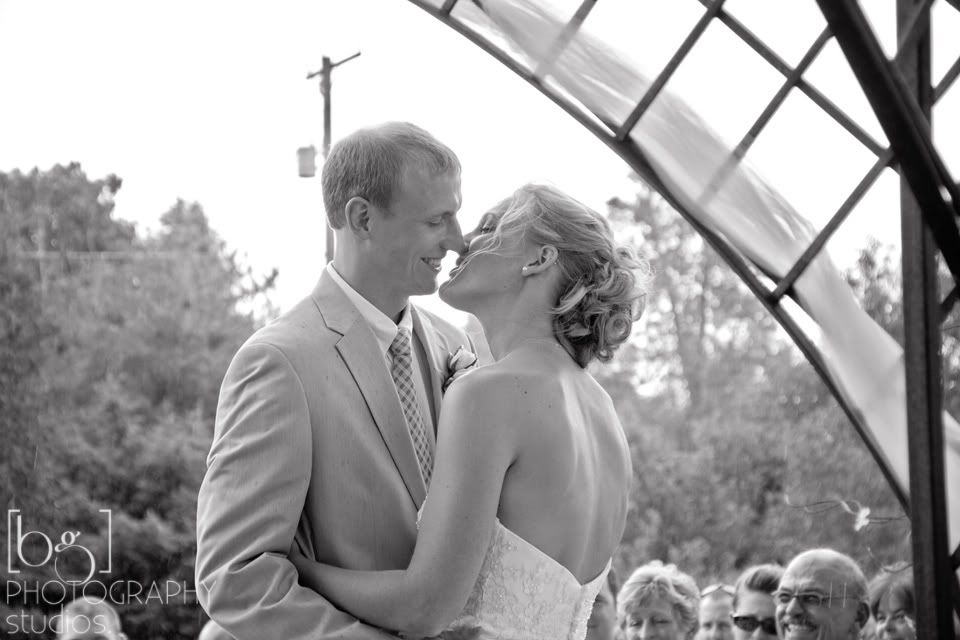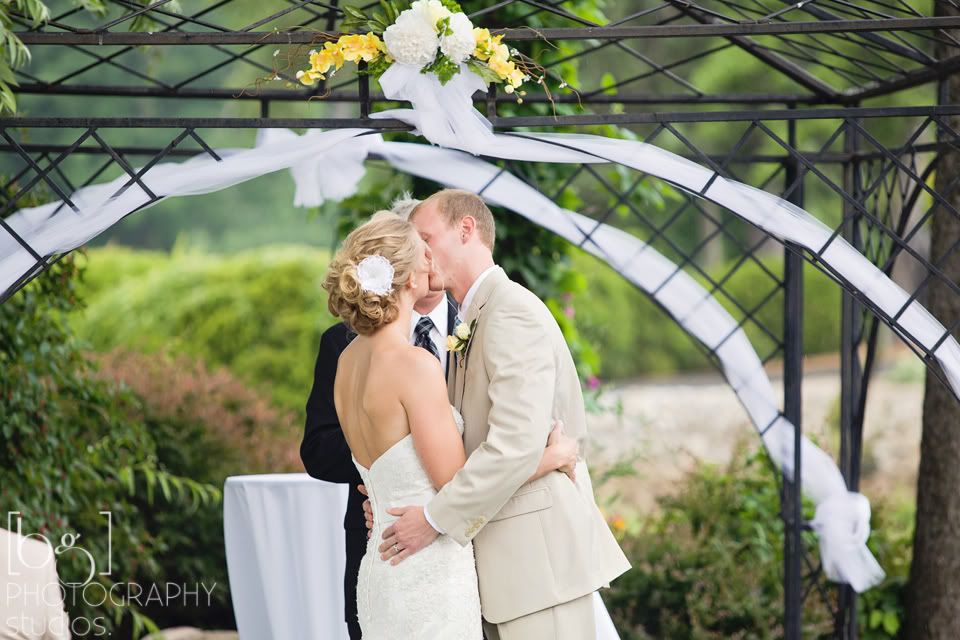 Streamers & poppers were flying, and the smiling, MARRIED! couple made a scramble for cover.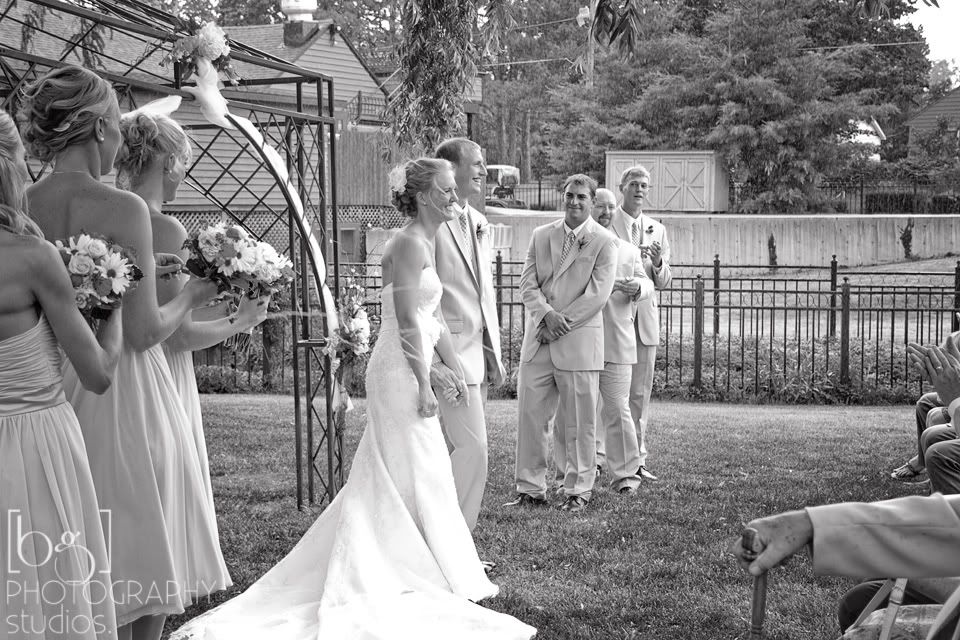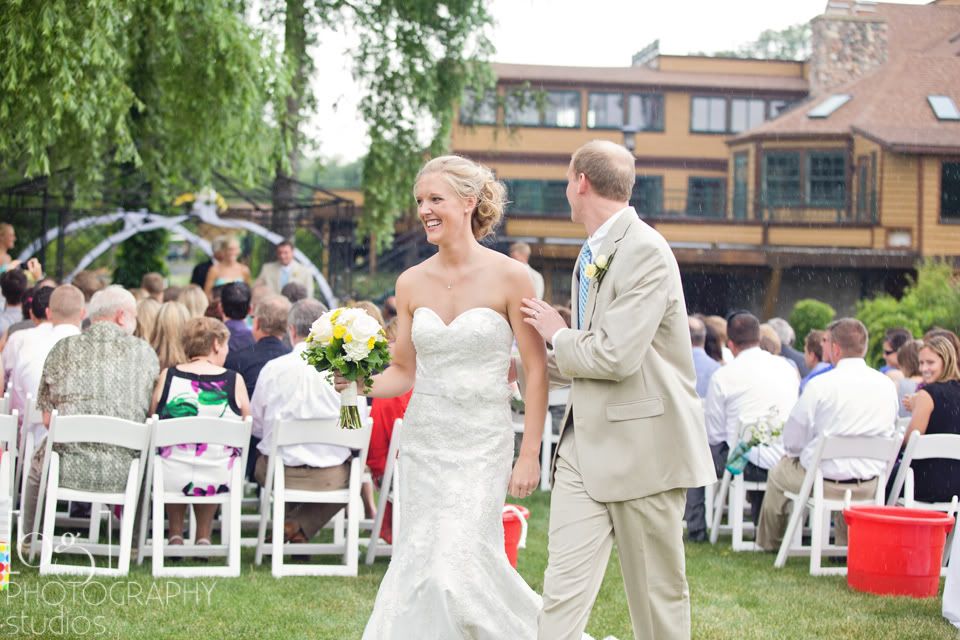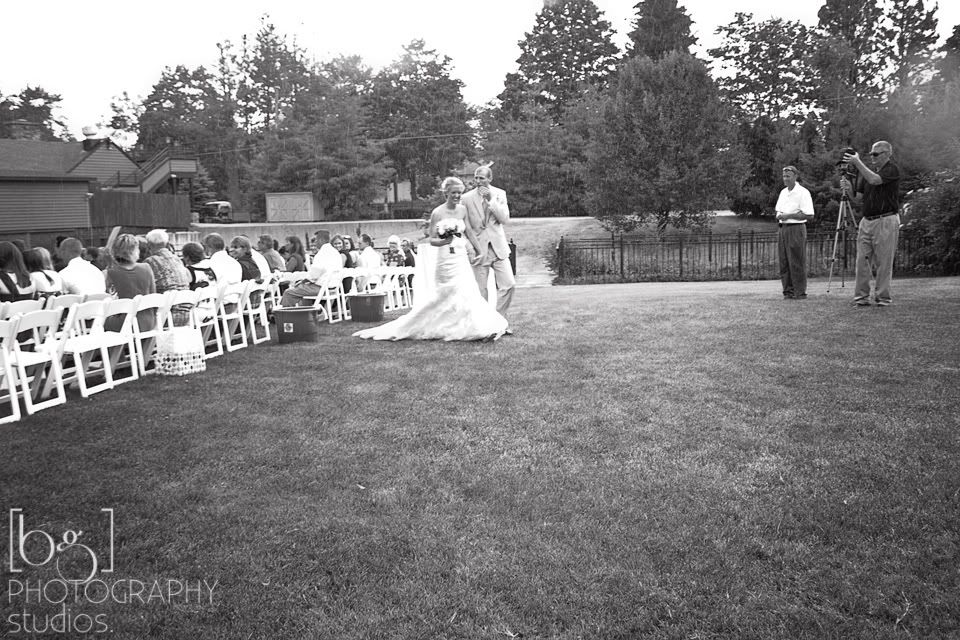 And by the time the bridal party and guests had all made their way indoors, it started to hail.  Yes, I said hail.  IN JUNE.  Welcome to Michigan, folks.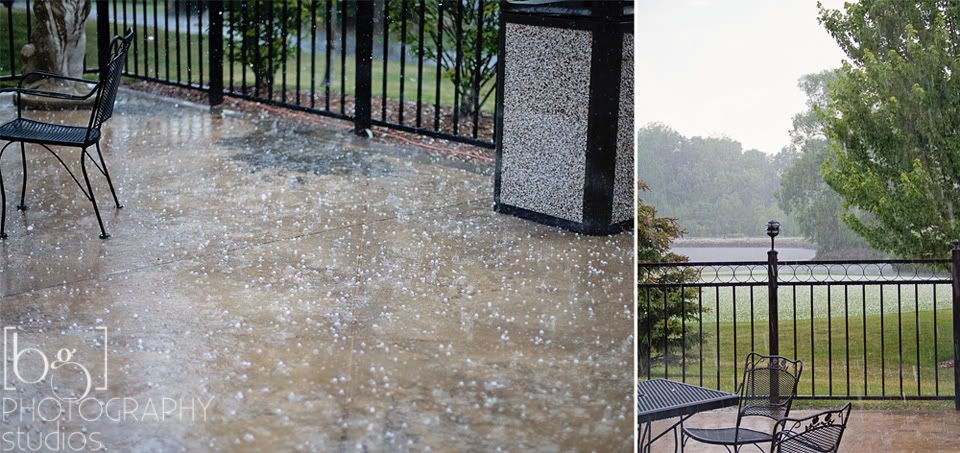 After greeting guests and starting to mingle during cocktail hour, Tracie and Nathan noticed the sun breaking through the clouds once again — this time to stay — and the four of us snuck away for a little trip to the beach…
But THAT and much more will come with Part Two next week! 🙂
Tracie and Nathan, we adore you two!  We were honored to document your day, and we can't wait to share more! 🙂
xo,
Adam & Brennigan