Gunfire is going off like mad~ grenades exploding, but I'm yawning uncontrollably. Normally, I'd play Call of Duty with Adam, but we spent the afternoon outside~ 60 degree weather in March…in Michigan? Calls for lunch at the play-park with family, visiting a butterfly exhibit, walking among sculpture grounds, and being silly & giddy that spring is here. And let me tell you: I am exhausted (in that that-was-such-a-great-day way). So, yes, yawning. Even typing the word brings on another one (didn't Mythbusters do an episode about that?). But there was fresh, spring air. And I couldn't be happier.
But it didn't start like that. The hills were not alive with the sound of music when we first arrived at the park. I looove to sleep, and this time-change never serves me well the first few days. The day was sunny, but I still had jackets piled on and the wind made my eyes water. My dad likened me to that of a vampire when he first saw me. And not the sparkly, sexy kind either.
But then it happened. It being exactly what I wanted from last week. Spring came and touched my soul. Melted away any remaining snow, and the gladness came. The air was clean. The sun, bright. And our bodies, rejuvenated.
stars of the show:
family. our family. adam and i are our own family, and this week rotated on this axel (albeit, squeaky at times *cue friday night argument): we defined our own marriage rules, sought out how to love each other fully, and truly focused on what will bring us together as a better husband and wife. our babies are features in here too: princess phara (green eyes like her mama) and toad being a gentleman with his paws crossed all cute & such.
points of interest:
saturdays are kind of our thing now. in my last personal post, i mentioned how we've come to treasure our rare time together (especially sleeping in together), and this saturday was no different. sleeping in. making an exceptional breakfast. and spending the afternoon scoping out antiques.
those pizza bites in the third row feature an amaaaazing sprinkle pizazz on top that is almost an exact replica of what pizza hut features on their regular breadsticks. yummy supper that is completely customizable and cheaper than ordering out.
i finished
The Lucky One
. had a panic attack on the last chapter; didn't know whether to keep reading or not. i really, really hope the movie lives up to my high expectations. especially since they left so much out in The Last Song.
when i entered college freshman year, i purchased (okaaay, my parents did) a hot pink Pixar-style lamp. it graced my bedroom for 6 years, and it was time for a lamp that suited the room of a married woman (hot-pink may be flirty, but goodness sakes, pixar lamps do not set the mood!). TA-DA! fourth row, last picture. new lamp. 🙂 (and i didn't even buy this one either. thanks, hubby. 🙂 )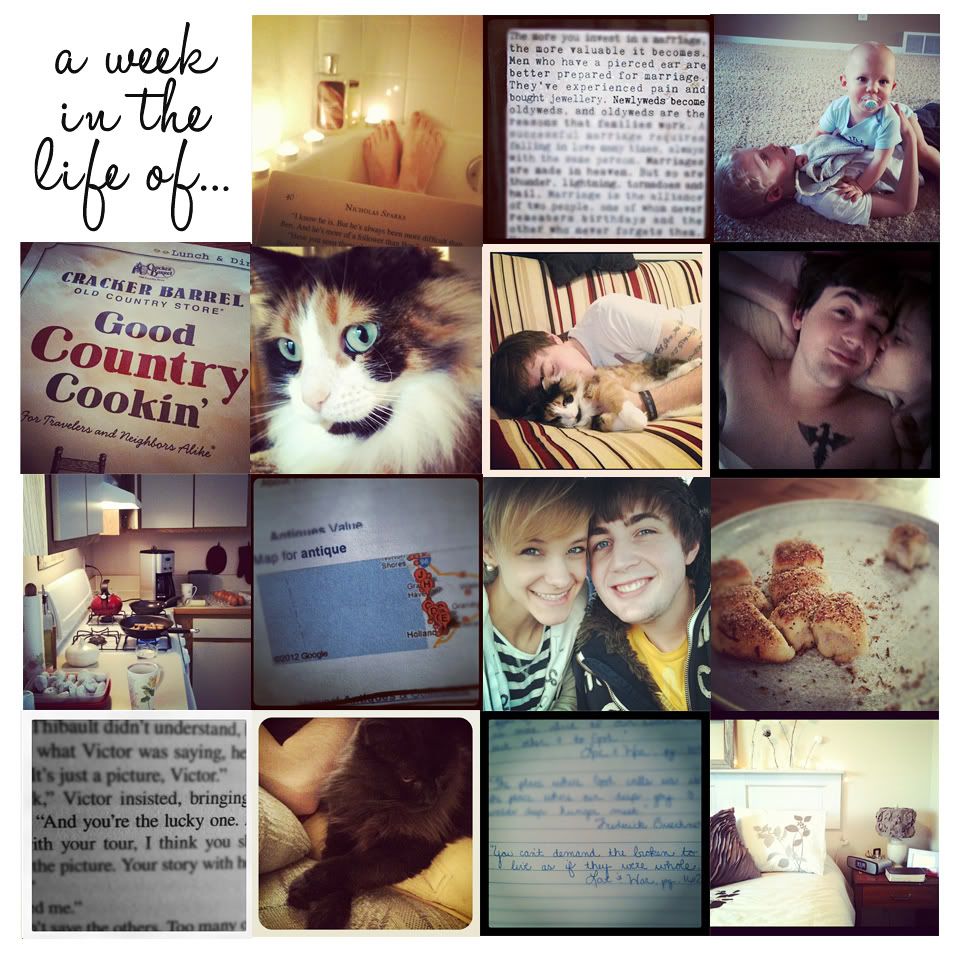 *(Instagram is a free app for iPhones that features various filters that are easy-to-use and make posting to Twitter, Facebook, and ha, my blog, easy-peasy! You can follow me @ bgilsonburnett or on Twitter @brennigan)
I'm not sure what will make a debut on the blog this week to be completely honest. Boudoir sessions are scheduled, but I know the blog just can't handle all the sexiness that I have to deal with with these gorgeous brides-to-be.
Spring has arrived (to stay~ fingers crossed!) in Holland and the weather beckons us all out and about; I'd just like to be there with you taking pictures. 🙂 I have a few weeks open before wedding season begins and summer starts full swing…I'd be more than happy to squeeze you in. And don't forget about
mini-sessions
~ honored through April! 🙂
Stay tuned, my friends!
P.S. And yes, the first picture is the bubble bath I mentioned I was off too last Sunday. See? I do stick to my word! ;P