Flower bulbs have been planted. Flip-flops have been dug out of storage. The grill has been filled with charcoal. Bubble wands have been flying through the air. The two of us have been taking walks almost every night, and the kitties love the breezes that drift through open doors & windows. Our unseasonably warm Spring has left the Burnett household wholly satisfied. We spent our Fall and Winter (first as husband and wife, no less!) dealing with car accidents, hospital bills, job searches, sickness, and lots of reality. We needed this. Together, we needed this Spring.
stars of the show:
little next-door neighbor girls. particular, evie. i watch my nephews every tuesday and this week, evie &
little charlie
spent the morning with us. once her big brother aiden comes home, all the kiddies and i decide we need bubbles. because bubbles cause faces like
that
(first picture, first row).
phara was our first rescue kitty. and i am absolutely smitten by her ability to act royal. not like i spend hours in front of her waiting for the opportune moment, but i totally caught her mid-yawn and she looks like a lion. or more-so, looks like she's trying to be a lion. and hey~ in this household, we dream big.
cameron & katelyn: my sweet, sweet nieces (second row, third picture). they live in florida, but thank you steve jobs for inventing ipads with facetime.
ella celebrated her first birthday today, and let me tell you~ kids love adam. babies love adam. i love adam. and this little cutie (last row, first picture) was being a sweet flirt with my hubby today. and it was her birthday~ she makes the rules. 🙂
points of interest:
there's more to our week besides my new sparkle shoes, my orchid blooming & the tulips poking through downtown holland, and discovering hearts inside twistie-ties. noticeably, the results of listening to grandma.
i wanted to go home today after the birthday party. i was tired. i wanted to save money and grab something from home before settling down for the evening. as i was voicing this to adam in the kitchen, grandma demanded spontaneity. "that's how you make the memories," she insisted. multiple times. SOOO, we stopped at one of our local beach towns and took our dinner to go. we sat in the sand and dreamed together of our future. dreamed big. talked like best friends & lovers do. we held hands. and we watched our first sunset of the season on my homemade quilt. what an evening it was.
listen to your elders, they say.
well, they -whoever "they" may be- are right.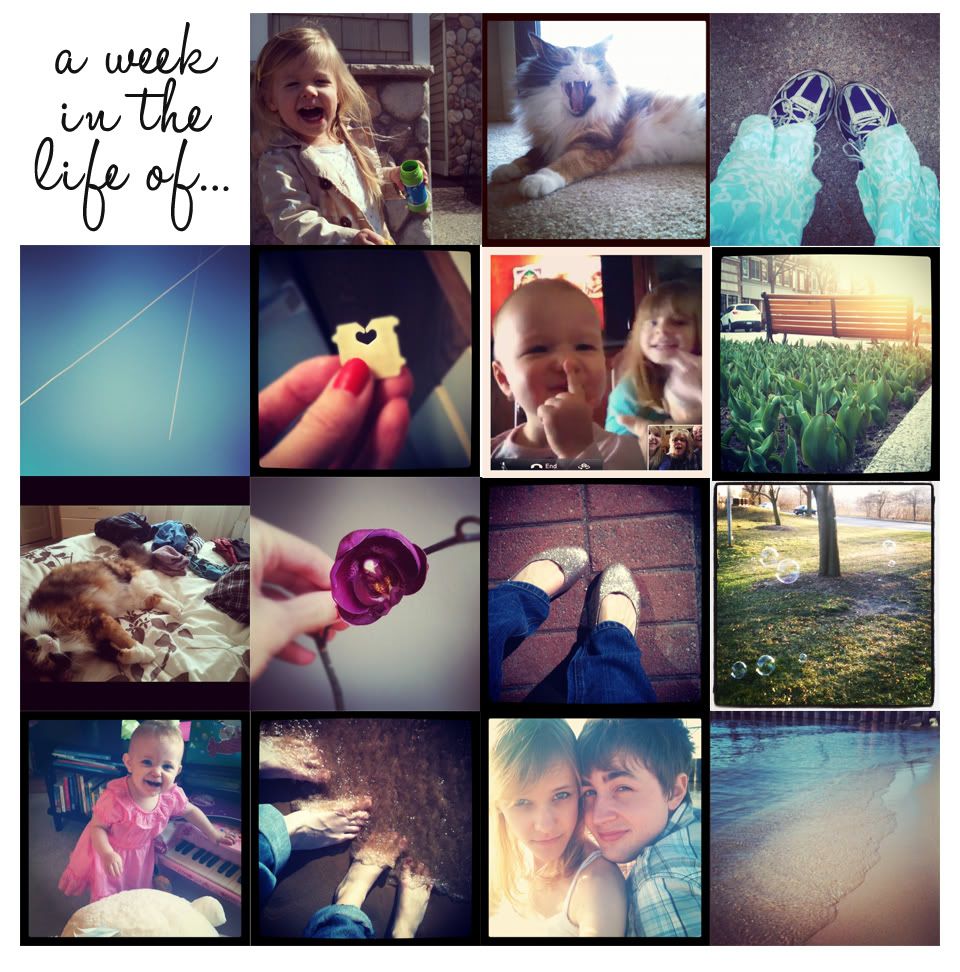 *(Instagram is a free app for iPhones that features various filters that are easy-to-use and make posting to Twitter, Facebook, and ha, my blog, easy-peasy! You can follow me @ bgilsonburnett or on Twitter @brennigan)
Adam & I have spent hours and hours outside today, and my body is ready to collapse into warm knit blankets. I'm ready to sip my night-time tea and turn the house down for a quiet night.
I hope your weekend did not disappoint.
Goodnight!