I write multiple introduction paragraphs (I blame my [self-diagnosed] OCD). But I was struggling tonight with words, and I read the few sentences out loud to Adam. I started the post with an impressive list of my "16 hours days, forgetting meetings and realizing it last minute, temper tantrums" kind of week, when Adam so sweetly stepped in to remind me, "But I also got you flowers!" Then a pause while he looked over to them: "…that…now…are…dead." He smiled. I smiled. Thank you, hubby.
And here we are.
stars of the show:
my hair. my
PURPLE
hair. besides feeling like a complete radio-transmitter ("E.T.?") with a heavily foiled head, my four-hour "crazy-hair" volunteer appointment at Douglas J Institute was well worth it. i mean~ I HAVE PURPLE HAIR.
rockstar.
points of interest:
the "introduction" flowers at their best & brightest. adam's always been a romantic (second row, last picture: sweet note to which to wake up). i've always been a realist (which i've actually admitted to meaning pessimist). prince charmings do exist. just take your eyes off of mine. ;P

"XXX" ~ i finished wrapping up a boudoir session this past week, and i can't wait to begin designing her *little black book* album. wish i could blog all my sexy bride-to-bes, but these are for their future husbands' eyes only!
we've finally upgraded our 13 year-old dell laptop to a macbook pro i found on craigslist. adam's friend works at the apple store in our area, and gave us the "genius bar of approval" on our investment. yes, my friends, we have completely branded our house with apple products.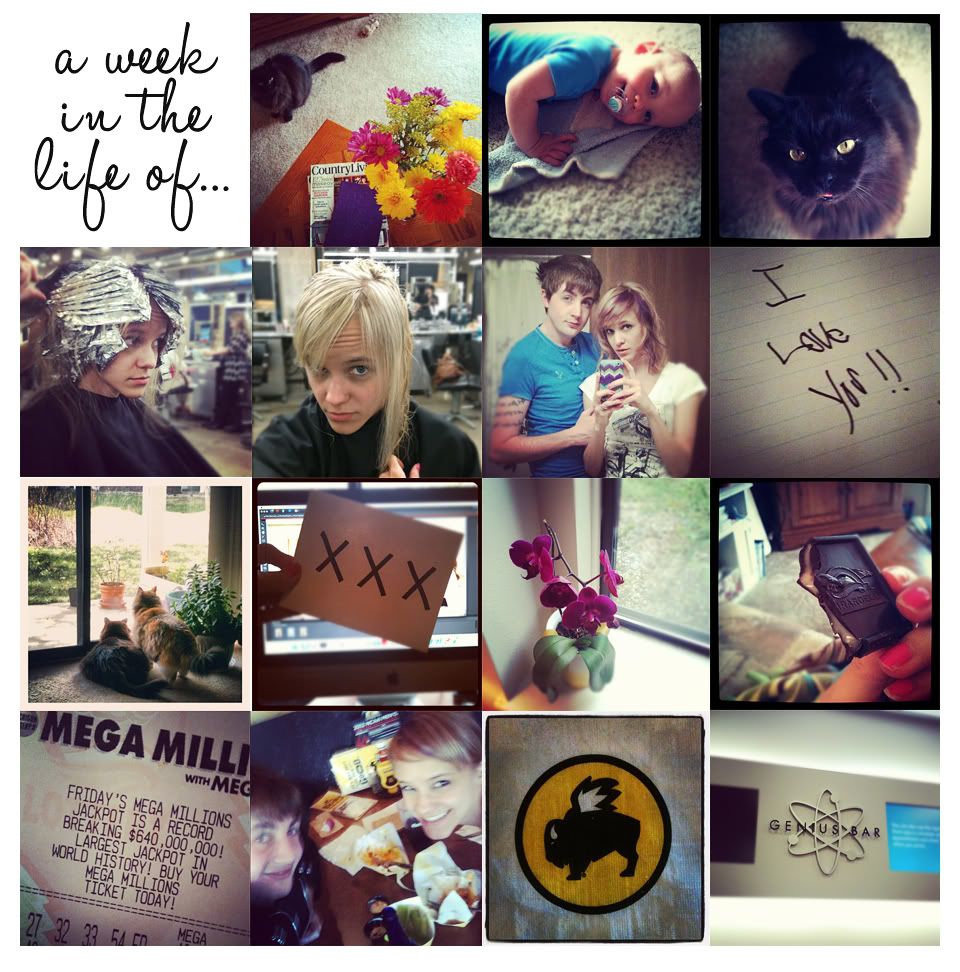 *(Instagram is a free app for iPhones that features various filters that are easy-to-use and make posting to Twitter, Facebook, and ha, my blog, easy-peasy! You can follow me @ bgilsonburnett or on Twitter @brennigan)
While I didn't win it big with the Mega Millions, here's to hoping for new camera equipment from Adorama! They're featuring a give-away (fingered crossed for these goodies: Canon 5DMII with Canon EF 24-105L Image Stabilized Lens, Think Tank Photo Roller Luggage, SanDisk 16 Extreme Pro CF Card, and SanDisk 8GB Memory Vault) that ends tonight. If you enter your e-mail for the $200 give-away, you're automatically submitted into both give-aways.
While I may seem absent on the blog, I'm busy in the office. I'm booking another wedding for this summer, re-designing the blog, ordering senior pictures (2 more months! you can do it!), and drum-roll…I'll be sending out bridal packets this week! We're on the brink of wedding season, and I couldn't be more excited! Happy Sunday!