My preface is short for the to-do list is long and a post office trip needs to be prepared.  Not only that, but there was that whole "day in the sun, picnicking with a family of thirty-something, and cuddling year and half year old nephews as the first wade in the big pool."  So let's get this party started:
STARS OF THE SHOW:
Toad and his wide-eyes made their way to the vet this past Wednesday (row two, pictures two and three). We found out that our rescue-baby previously had his toes broken, was in a ear-fight and had his thigh pulled out of socket and not properly healed.  AND THEN, they gave him two shots.  I just about fainted.  Literally.  Sick to my stomach, couldn't look at the needles, and had to sat down.  (Nerves of steel, this one.)  And Toad didn't even make a peep!  What am I going to do if I have a child?!  They will most likely make more than a peep.  
Noah (one of my nephews that I frequently watched this past winter and spring) graduated from preschool on Thursday (row three, picture one) and we had an ice-cream outing at the park with the whole family after downtown what we call our quaint little Holland (row three, picture two and row four picture two).
POINTS OF INTEREST:
This week was our week of trying new recipes: homemade healthy fish fillets (row one, picture three), round, smashed + baked potatoes (row two, picture four), healthy potato sliced fries *russet + sweet* (row four, picture three).  YUM.  WOW.  Aaaand, PROBABLY on the menu this week too.  
Remember last week after the battle with the batting cages and I declared the next date night would include a massage (row four, picture one)?  I seriously did book it the next the day of said blog post, and afterwards?  I realized I need to book more of them more often.  Definitely.
I was shopping around for gifts for a special someone, and I honestly couldn't leave without purchasing one myself (okay, okay, Adam bought it for me…but we're married, so "shared" finances, right?).  For those of you who aren't consumed with all things photography, its a decal for the computer or iPads that's a dial on a camera (row three, picture four).  *sigh*  I open and close my laptop frequently just to admire it.  No wonder I don't get any work done.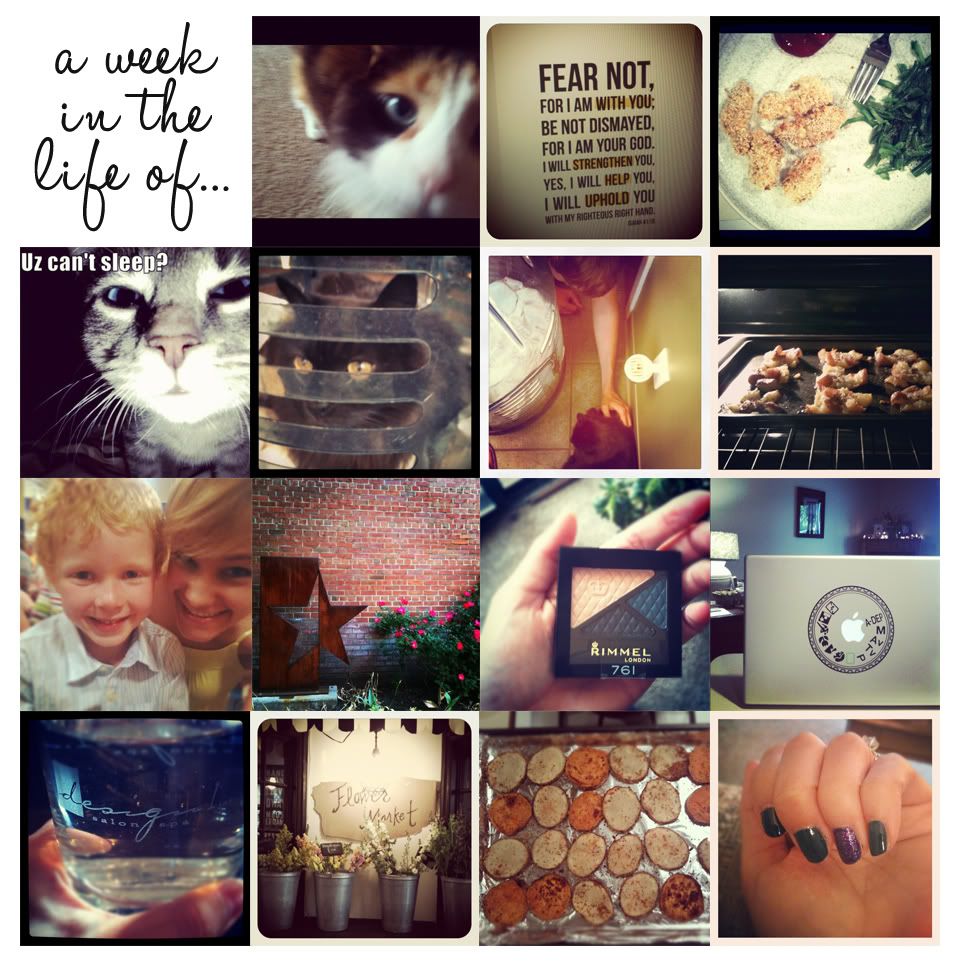 *(Instagram is a free app for iPhones (and now Androids!) that features various filters that are easy-to-use and make posting to Twitter, Facebook, and my blog (with the help of a personally-made Photoshop template), easy-peasy! You can follow me @brennigan)
Tomorrow's all "behind-the-scenes" work :: redesigning my brand, designing packing materials, and editing the final photos from Danielle and Matt's wedding.  Look out for a feature of the adorable couple within the next few days! 🙂  Hope you all had a marvelous weekend!