Just boppin' in real quick tonight with "a week in the life" of a crazy busy, you've-got-to-be-kidding-me woman who may or may not be suffering from an unstoppable itching poison ivy/oak/part of God's creation amidst boudoir sessions, editing, and prepping for a wedding this Friday.  This is life.  I'm intentionally drinking it all in, and this is just how I like it.  Sans the itching.  That's getting kind of annoying.
STARS OF THE SHOW:
Adam and I have adopted two kitties over the past two years (one living with him while we were dating) and the other once we became married.  Toad (originally Dakota…then Koda…then Toad…then -insert.random.name) is my baby.  He's fat and fluffy and loves his Mama and always keep me company when I edit late into the night (row three, picture three).
About twice a year, I get to see a very dear friend of mine.  The kind of friend who knows your soul and can see past hurt and faults and love unconditionally.  Kim and I have been friends since I was 5 and looked like a boy (thanks, Mom, for the haircut) except for my Jasmine shoes.  She's a few years older than me, but living next door to each other meant lots of play-time, imagination games, and summers filled with country music, windows down, and shopping at Old Navy.  Since college, we've both moved away, but our heart-threads stretch across the country and were knitted together for a few hours this week while we caught up on life…not to mention major lovin' time on her sweet one year old (row three, picture four; row four, picture one).
POINTS OF INTEREST:
FOUR YEARS.  Of first kisses, dates, dances and surprise flower bouquets (row two, picture one).  Of long e-mails, late-night phone calls, long drive.  Of arguing over silly things and making up the next day.  Of summer love, fall camping trips, Christmas snowfalls and sweet songs.  Of memories that stay snuggled close to my heart.  Happy four years, my love.
The moon this past week sneaked in through the blinds as I edited late into the night.  He called out to me, begging for me to see that even in the darkest of nights, there is still light (row three, picture one).
Hey, Mama…(row four, picture three :: you might recognize her from here) had her baby shower for her Love Bundle and designing baby onesies (row four, picture two)?  UM, YES.  Danielle rocked it out (Baby's room is giraffe themed), but the Heather chose the winning onesie that said "Mommy only wanted a backrub…" 😉  How could she not?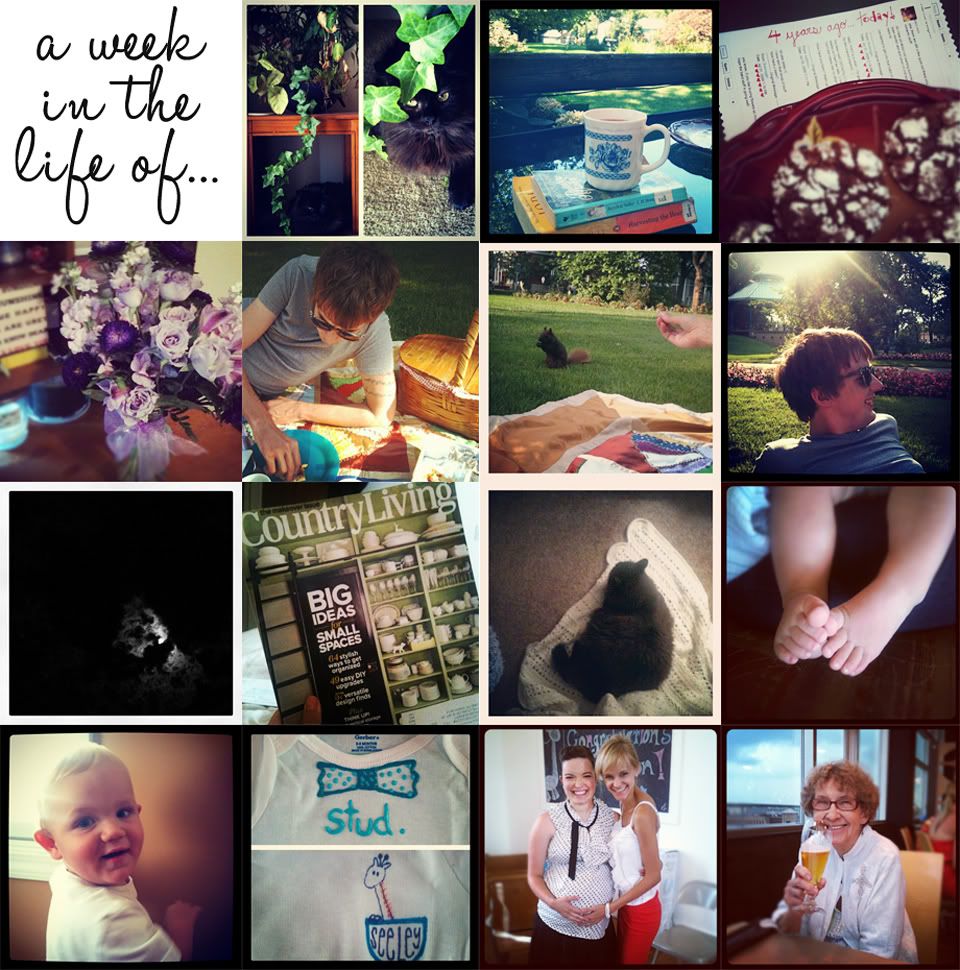 *(Instagram is a free app for iPhones (and now Androids!) that features various filters that are easy-to-use and make posting to Twitter, Facebook, and my blog (with the help of a personally-made Photoshop template), easy-peasy! You can follow me @brennigan)
My cup of tea is slowly cooling down and my emotional high from a filled-to-the-brim day is falling fast.  I'll be back on the blog with an engagement post tomorrow before Adam and I are back at the Blue Dress Barn this Friday evening. 🙂
Happy Tuesday, my friends!