Sifting through and editing wedding pictures in the house all afternoon warranted an outing for this fuzzy-minded photographer. I pictured setting up in one of Holland's quaint coffee shops and pumping out a quick blog post – home in time for dinner (which I picked up in the end, so whenever I arrive would be the "right" time anyway).  Who would've known the busiest street would be closed, the wi-fi wouldn't work (I know because I've tried multiple signals, held my laptop over my head, and re-arranged my work area to the darkest corner of the room), and an M&M cookie would be my dinner?  Downhearted at first, perhaps; but PERSPECTIVE, my friends.  No internet distractions, the scenic route on the way home, and chocolate for dinner?  A girl's dream come true.
STARS OF THE SHOW:
Maybe you've noticed the absence of a cute little baldhead in the past few weeks (row one, picture two). Ever since my sister has finished teaching spring courses, I've had my Tuesdays free (and in turn my Instagram free) of that baby I love so much. Luckily, he and I were reacquainted this past Tuesday and spent our time together on a mile walk (I evidenced that row one, picture three)– power-pushing a stroller up-hill through grass and all.
I think we give our black cat a new name every week. It's funny to retrace the web of names…to see the slight transformation of each name and the stark difference from start to finish. When we adopted him, he was called Dakota. Right now, we we're referring to him as DAT GIRTH (after recently measuring him for a kitty harness [which, he'll have to get a small dog harness instead] …and as evidenced by row two, picture four).  Poor fat Toad (another name we have for him).  The biggest ones are always babies at heart.  At least he still fits on Mama's lap.
POINTS OF INTEREST:
I have a stack of books on my nightstand: mostly psychology and religion and a few marriage books. And I was frequently waking up in the middle of the night in panic until I realized, UH, STRESS OUT MUCH?  I've knocked the aforementioned books off the nightstand (they are happily on the coffee table now) and replaced them with the White Noise application on my phone (row two, picture three) that lulls me into a relaxed state with a thunderstorm every night AND a light read that holds dear to my heart: Anne of Green Gables (row three, picture one).  Needless to say, my dreams are much sweeter as of late.
Husband/wife rivalry is healthy, right?  As Adam so lovingly pointed out on his Instagram that three points is still considered him winning, I lovingly Instagrammed how I was on my way to beating him this time around in Words with Friends (row two, picture two).
I tackled a long to-do list Friday (row three, picture four) in order to spend the entire evening with my husband for an official date night (row four, pictures one through three). We wanted to do something out of the ordinary, so we went to the batting cages (both something we've never tried)…fun? yes.  but MY LAND, I had no idea what was wrong with me Sunday morning. Aching back, raw fore-arms, and as I'm bemoaning my condition to Adam, he says so obviously, "Its probably from the batting cages, Sweetheart."  YEAH.  On our next date night, I'm substituting the batting cages for a massage. I've already scheduled the appointment.
Last year, I dove head first into my business. I studied blogs like textbooks, researched forums, and shot four weddings (with Adam as my second-shooter) without ever assisting or seeing it done first-hand. This year, while our own schedule is filling up with clients, I made a bit of wiggle-room to second-shoot for experienced area photographers to gain a few tips and add to my portfolio (row four, picture four). More on this though later this week.  🙂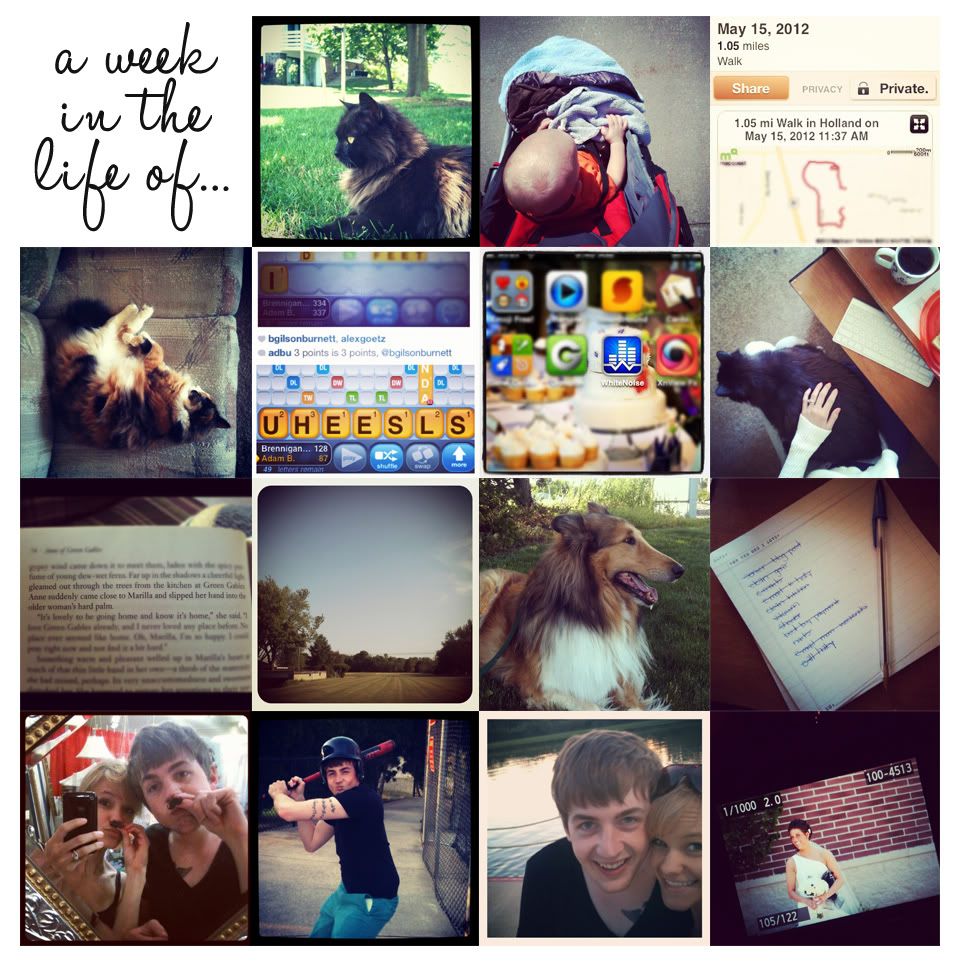 *(Instagram is a free app for iPhones (and now Androids!) that features various filters that are easy-to-use and make posting to Twitter, Facebook, and my blog (with the help of a personally-made Photoshop template), easy-peasy!  You can follow me @ bgilsonburnett or on Twitter @brennigan)
Look out for a sneak peek of Saturday's wedding on the blog within the next few days!