I've never been a morning person.  I'm lackadaisical in a way that I prefer to drink in my mornings with crocheted blankets, warm tea, and cuddling with kitties — all the while catching up on e-mails (and Pinteresting) and sometimes falling back into a mid-morning nap while reading Anne of Windy Poplars (book four of theAnne series).  However, the last two mornings have been filled with bustle and lots of hustle as I've been excited filling pinatas with blue confetti and riding down home with my husband while the traffic lights still blink instead of turning a steady green, yellow, red.
While the calm here at my parent's doesn't anywhere near resemble the calm of my apartment, the fan whirs a familiar noise and Dad's keystrokes at the computer are consistently hypnotizing.  And in between my sips of tea and replying to my own e-mails, Mom is fast-walking around the house, up and down the stairs, with curlers in hair and a smile on her face as she cheerily answers her ringing phone, "Heeeellooo, this is Sally Gilson!"  It's a different kind of normal, but its sweet all the same.
Today marks the second anniversary of my grandpa's death, and while today is still a time to mourn, we'll also celebrate life.  We've planned an afternoon to spend at the cemetary where Grandma will join us to plant new flowers at his grave and then off to a lunch in our quaint small town where we'll talk of memories and good things and thoughts always on our mind.  We'll relish the family close by in the physical and recall those close to our hearts as we celebrate this holiday week.
STARS OF THE SHOW:
While her face may not be all that present (except for row three, picture one), Haley spent a week here in Holland, and we did things that best friends should.  Pick blueberries, go to the farmer's market (row two, picture two), antique hunting (row one, picture three), visit our alma mater (row one, picture, two) Pinterest crafts (row two, picture four),…pick out friendship bracelets for each other to wear, trying out nail polish at Target, talking about boys…the norm. 🙂  I've missed her, and I miss her now.  I bottled up every second of excitement ("oh.my.gosh.TWINS!"), the comfortable silence of just being, and the conversation.  OH, the conversation of the reflective, the superficial, the innermost beings.  She is truly my kindred spirit (see, how I slipped an Anne line in there, Haley? I knew you'd like her).
Daddy's girl || row three, picture two.  Since my apartment wasn't allowed pets at the time, Adam housed our sweet adopted girl, Phara, for a year and a handful of months.  To this day, he still chooses him over me.  It's cute, really (as long as the other cat chooses me).  She had the entire bed to choose from, but lays by his feet every night — yes, it shortens his leg room for his 6 foot frame, but who can resist that sweet fluff-ball?!
Behold: the grill master (row four, picture one).
POINTS OF INTEREST:
I FOUND THEM.  My milk-glass mug search is over.  During one of our shopping endeavors, Haley and I came across these five babies (row one, picture three) for only $10 — holla!  I've adopted the blue-printed one as my new Monday morning mug, and its served me so well.  Even Phara approves (row three, picture four).
You know how flowers always come with those little packets of "flower food" that you always just toss right into the garbage?  I always do too; no matter how many bouquets Adam brings me, I just imagine the dust completely clogging up the stems.  HOWEVER, when Haley and I bought single stem roses, I mixed the flower food in with the water (because I treat my guests right 😉 ) for kicks&giggles, and my.land, this rose just kept blooming bigger and bigger (hence the multiple photos: row two, picture one; row three, picture three).  And it smelled like heaven.  Honestly, I imagine heaven must smell as sweet.
If you haven't watched Kilwin's employees make fudge YOU HAVEN'T LIVED (row four, picture four).  Its hypnotizingly one of the coolest things ever — or maybe I'm easily amused.  It's even better if you're eating the buttermilk fudge while watching.  Trust me.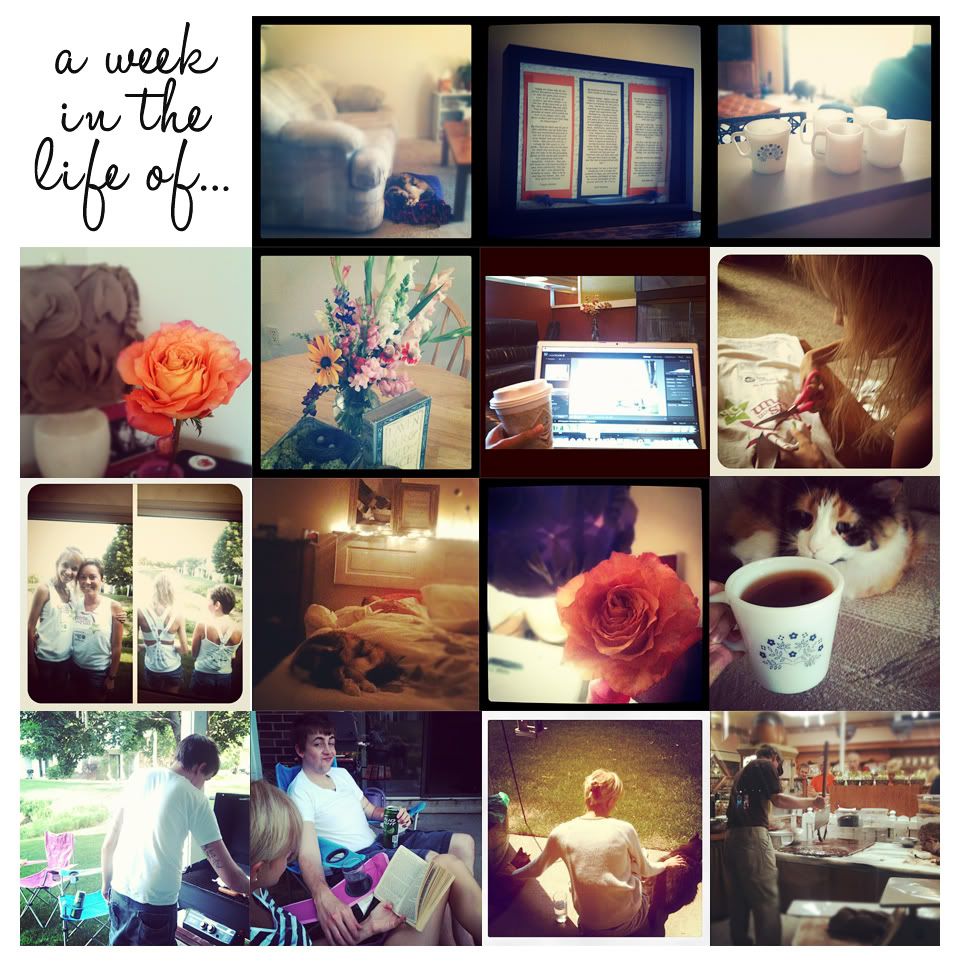 *(Instagram is a free app for iPhones (and now Androids!) that features various filters that are easy-to-use and make posting to Twitter, Facebook, and my blog (with the help of a personally-made Photoshop template), easy-peasy! You can follow me @brennigan)
Homemade jam tarts and another cup of tea are just begging to be visited on the deck.  I'll be back Friday with a wedding sneak peek and then next week…more weddings (and a little snippet from this week too!).  I'm so grateful-happy-over.the.moon for this time of year.
Happy Holiday Week, Internet! 🙂